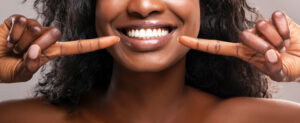 If you frequently enjoy coffee, tea, or other dark-colored beverages, you may notice over time that your smile is not as bright as it used to be. At Central Park Dentistry in Charles City, IA, we understand that a whiter smile can give you the boost of confidence you need. We can offer you an at-home option that is suited to your needs. In today's blog, we're here to tell you all about the benefits of a professional teeth whitening service.
Common Misconceptions About The Color Of Your Teeth
Yellow teeth are unhealthy.
It's important to know that more yellow- or whiter- teeth do not mean you are healthy or unhealthy. In fact, whitening teeth is simply a cosmetic dental procedure that we offer. To ensure you have a healthy mouth, make sure that you are practicing regular oral hygiene and seeing your dentist biannually for a checkup. Some people may be genetically predisposed to having a thinner enamel, which can cause yellowing more often.
Store-bought whitening Strips are just as effective.
Generic whitening strips may seem appealing in a pinch, but they are not tailored to fit your specific needs. These can either contain bleaching elements that are too strong or have the potential to damage your teeth. They also may not have enough whitening ingredients and may not leave you with the long-term desired effects that you want.
You can never drink coffee or tea again after whitening your teeth.
While we do recommend that you avoid drinking these immediately after, you can still enjoy your favorite snacks and beverages. To prevent discoloring after a whitening service, brush and rinse immediately after enjoying. This helps get the tannins- the natural coloring from dark foods- off of your teeth.
Our Solution!
At our office, we offer an at-home whitening service for extrinsic staining.  Your dentist will examine your teeth and together you can determine how white you would like your teeth to be. You'll receive a personalized kit that has the solutions and tray to use. Every day for 10-14 days you'll put this on for a few hours. Then, you can enjoy a bright new smile.
If we find that your staining may be due to intrinsic staining, we recommend treating the teeth in a different way. Staining from the inside of your teeth can be due to a variety of reasons- from medications, overusing fluoride, etc. Unfortunately, standard whitening treatments will not brighten this type of discoloration. Instead, we offer different cosmetic solutions for this.
Call Us Today For Your New Smile!
At our office, we want you to have a happy and healthy smile. If you're ready to feel more confident in your smile again, call Central Park Dentistry in Charles City, IA today at 641-228-1115 .