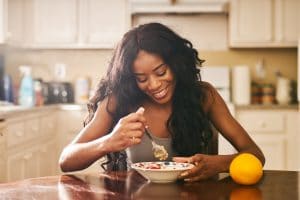 What tasks should you make sure to take on at the start of your day? For some, this is a good time for exercise, or it can serve as a chance to catch up on the news. Others prefer to sleep as much as possible before they have to set out for work. While morning routines vary wildly, it is important that people take the time to properly care for their teeth at the start of the day. One way to do this is by making sure you are thoroughly cleaning them when you brush. You should also be mindful of how your go-to breakfast options might be helping or hurting your oral health. Our Charles City, IA dentist's office can help you stay on top of your oral health needs through consistent routine dental evaluations and cleanings, but make sure you do your part on your time by making good daily decisions!
Take Time To Brush Thoroughly And Fight "Morning Breath"
Why do people often wake up with embarrassing morning breath, and what can be done about it? While you are asleep, certain physical changes will occur. One change is that your body produces less saliva, which means you are doing less to naturally fight the growth of oral bacteria. This can affect the odor of your breath each morning. While you should fight the day's buildup of bacteria by brushing and flossing before bed, you should also begin your new day by brushing to clear away the harmful agents present in your mouth. If you are doing this infrequently, or if you are not giving yourself time to clean your smile thoroughly, you can have a more difficult time preventing problems that demand restorative dental work.
Making Smile-Friendly Choices At The Breakfast Table
Is your typical breakfast high in sugar? Many people look for convenient choices at the beginning of their day, not realizing how much they can affect their relative risk for cavities. In addition to sugary cereals and pastries, you can have problems with juices that contain more sugar. Acidic juices can also soften your enamel over time, making it more difficult for you to prevent future decay.
While coffee can be enjoyed without sugar, it may become a problem for you because it makes teeth stains difficult to avoid. Coffee and tea are both able to cause stains, and may also affect you by causing dry mouth.
Do You Wake Up With Sore Or Sensitive Teeth? It Could Be Bruxism
If your teeth feel sore or sensitive when you wake up, it could be due to untreated problems with bruxism. Talk to your dentist about this problem before it causes visible wear and tear, or leaves you needing a dental crown for a chipped or cracked tooth!
Discuss Effective Smile Care With Your Charles City, IA Dentist
Central Park Dentistry is ready to help patients develop routines that keep them protected against dental trouble! To learn how we can help you, please call our Charles City, IA dental practice at (641) 228-1115.
Call Central Park Dentistry in Charles City, IA Today!
At Central Park Dentistry, we offer a variety of dental treatments that are customized for each member of your family, including in-house root canal treatment, tooth extractions, dental implant placement, and same-day emergency dental visits, when necessary. To schedule a consultation or dental appointment with Dr. Hansen, call our dental office in Charles City, IA today at (641) 228-1115. We also proudly welcome patients from Osage, New Hampton, Greene, Nashua, Nora Springs, Riceville, and all surrounding communities.