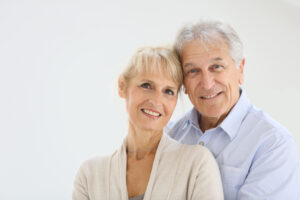 You can quickly grow tired of having an incomplete smile, but you may be unsure of what you should do to address this issue. After all, this is more than just a cosmetic issue, as the absence of a single tooth can have a frustrating effect on your appearance as well as your ability to bite and chew in a way that feels natural, and it can be more difficult to prevent future problems with your oral health. At our Charles City, IA dentist's office, we can meet with you to discuss the advantages of implant dentistry. Through this approach to restorative treatment, we can permanently support a restoration that you can rely on for bite support and stability for neighboring teeth. This work can even help you by protecting the health and strength of your jaw, which can lose mass over time after tooth loss occurs.
Are You Tired Of Living With Your Incomplete Smile?
Living without your full smile means living with less confidence in the way you look. If you feel like people can see the gap where your tooth used to be, you can have concerns that it affects how they perceive you. This can be an especially sensitive issue if the gap is in a more visible area. Even if you do have a relatively easy time hiding the problem, tooth loss can hurt your ability to bite and chew with comfort. It also makes you more vulnerable to neighboring teeth shifting due to a loss of stability.
Planning Restorative Work With An Implant-Held Prosthetic
Through implant dentistry, we have the means to permanently hold a prosthetic tooth in place, and we can even do so without modifying neighboring teeth. The restoration stays in place thanks to the implant itself, which is carefully set directly into your jawbone where your lost tooth roots used to reside. As you heal from the placement process, your jawbone will actually fuse to the post during your recovery. Once you have healed appropriately, you will have a custom restoration put in place to provide cosmetic and functional support.
Enjoying Life After You Regain Your Full Smile
Whether you have effectively prevented all dental problems or experienced multiple issues with your oral health, you can benefit from regular dental exams and cleanings. At these visits, your dentist closely evaluates you to see if there are any problems that require attention. If so, we can offer up the necessary support before there are complications. You also receive thorough teeth cleanings that make you less likely to experience future troubles.
Talk To Your Charles City, IA Dentist About Implant Dentistry
Through implant dentistry, we have the means of effectively restoring your dental health and appearance by providing a stable, permanent prosthetic. To find out more about this and other services that we provide, please reach out to Central Park Dentistry at (641) 228-1115.
Call Central Park Dentistry in Charles City, IA Today!
At Central Park Dentistry, we offer a variety of dental treatments that are customized for each member of your family, including in-house root canal treatment, tooth extractions, dental implant placement, and same-day emergency dental visits, when necessary. To schedule a consultation or dental appointment with Dr. Hansen, call our dental office in Charles City, IA today at (641) 228-1115. We also proudly welcome patients from Osage, New Hampton, Greene, Nashua, Nora Springs, Riceville, and all surrounding communities.