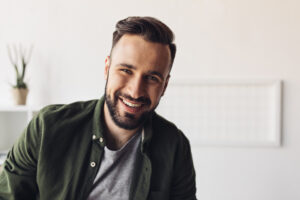 In times when cavities do more damage than we can address with fillings, we can recommend that dental crowns cover vulnerable teeth to protect them. When you need to undergo this kind of care, you may worry about what you can really count on from your restoration. Fortunately, at our Charles City, IA dentist's office, we can actually provide dental crowns that are durable as well as attractive. Porcelain dental crowns are often used to take care of patients with advanced dental decay, as well as problems with physical trauma that leave teeth chipped or cracked. In the event that we need something stronger, we can look at other materials, such as zirconia, porcelain-fused-to-metal, or metal to make sure you have the right support.
The Importance Of Properly Protecting A Tooth
Any time you need to undergo restorative dental work, you should receive a custom filling or crown that is durable enough to provide lasting support for your smile and bite function. Receiving the right restoration is important, as it will make sure that you have lasting protection, that you can still bite and chew without issue, and that your smile is preserved. Because we provide crowns that are made with porcelain, we can provide the right support for an advanced cavity or injury, and we can make sure your appearance is not altered.
Placing Your Custom Dental Crown
A custom dental crown is placed after preparatory work occurs; that work makes space for your restoration, and it lets us take measurements to see what shape and size it should be. Once it is ready, you will return to have it put in position. At this point, you can count on its support for many years! Before it is set in position, we will confirm that it is the right shape and size, and that it has the right look to preserve the way you look.
Preventive Appointments Lower Your Risk For Future Problems
If you want to avoid the kind of cavity problems that make the placement of crowns necessary, be consistent about your smile care routine at home, and make sure that you regularly see your dentist for checkups and cleanings! At these appointments, we provide the kind of preventive services that help people of all ages guard their teeth and gums from potential harm. We also look out for evidence of problems that can be treated before they are severe enough to require crowns.
Talk To Your Charles City, IA Dentist About Restoring Your Tooth With A Porcelain Crown
Through the placement of a porcelain crown on your vulnerable tooth, you can count on bite support as well as coverage that preserves your appearance. If you would like to find out more, please contact Central Park Dentistry at (641) 228-1115.
Call Central Park Dentistry in Charles City, IA Today!
At Central Park Dentistry, we offer a variety of dental treatments that are customized for each member of your family, including in-house root canal treatment, tooth extractions, dental implant placement, and same-day emergency dental visits, when necessary. To schedule a consultation or dental appointment with Dr. Hansen, call our dental office in Charles City, IA today at (641) 228-1115. We also proudly welcome patients from Osage, New Hampton, Greene, Nashua, Nora Springs, Riceville, and all surrounding communities.