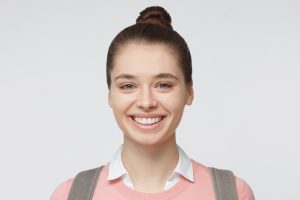 While a healthy tooth is strong enough to withstand considerable biting and chewing forces, one that is damaged or affected by decay will need help. When damage does affect our enamel, the harm can be permanent. This is why restorative services rely on fillings and crowns to provide lasing support after the treatment itself. At our Charles City, IA dentist's office, we can provide a custom crown capable of giving you lasting bite support. In addition to providing a crown that is the right shape and size for your tooth, we can select a material that matches your enamel to provide cosmetic support.
Will I Need A Crown To Resolve My Dental Problem?
Not all restorative dental procedures rely on crowns, but these procedures do require some type of restoration to keep a tooth safe. If a cavity is identified and addressed in time, you can receive a lifelike dental filling. This is the more conservative treatment option, one that is capable of offering lasting support while only covering a limited area. A dental crown will occupy more space, as it gives total coverage to your tooth above the gum line. By providing this level of support, it can provide valuable help after a severe cavity, or after you experience significant damage to your enamel.
Planning Treatment That Calls For The Placement Of A Restoration
The evaluation that your dentist provides your tooth before treatment is important. This review lets us know what kind of restoration you will require, and it can inform us if there is a need to perform root canal therapy. If you need a dental crown, the placement process can be completed in just two appointments. Your first visit lets us prepare the tooth and take the measurements that we need to provide a restoration that is the appropriate shape and size. When you return, we will put your custom crown in place.
Avoiding Future Oral Health Issues
While it is reassuring to know that your dentist can place a dental crown that imitates healthy enamel and provides long-term support, you should still focus on making sure your teeth remain healthy. At regular dental checkups, we can provide beneficial cleanings of your smile that make you less likely to experience future problems. We also perform reviews that let us know if there are any problems that might require our services. This can lead to the discovery of a cavity when a filling is still an appropriate treatment option.
Talk To Your Charles City, IA Dentist About The Placement Of A Custom Crown
By placing an attractive, lifelike dental crown, we can support your bite function as well as your smile. To find out how we can take care of you when something is wrong, please contact Central Park Dentistry at (641) 228-1115.
Call Central Park Dentistry in Charles City, IA Today!
At Central Park Dentistry, we offer a variety of dental treatments that are customized for each member of your family, including in-house root canal treatment, tooth extractions, dental implant placement, and same-day emergency dental visits, when necessary. To schedule a consultation or dental appointment with Dr. Hansen, call our dental office in Charles City, IA today at (641) 228-1115. We also proudly welcome patients from Osage, New Hampton, Greene, Nashua, Nora Springs, Riceville, and all surrounding communities.