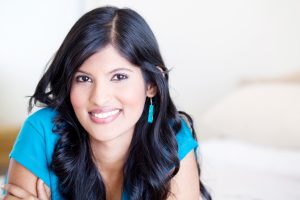 While you may feel certain that you want to show off a whiter smile, you may be less clear on how you should pursue this goal. By discussing it with your dentist, you can learn about the different cosmetic treatment options available to you. Discussing this interest is also a good way to learn if you truly need to worry about discoloration from enamel stains, or if another issue affects your appearance. Our Charles City, IA dentist's office is happy to review your options for cosmetic services. The right teeth whitening treatment can effectively give you a stunning smile. In cases where patients are affected by intrinsic discoloration, we can review alternative procedures that can help.
Are You Unhappy With The Color Of Your Smile?
Many people can point to issues that they have with the way they look. For many, discoloration is at least part of their overall concerns about the way they look. Store bought whitening treatments can lead to limited benefits, as they can fail to remove particles that have gathered below the surface of teeth. This does not mean you are simply stuck with the way you look! With a professional teeth whitening procedure, we can help you take care of discoloration that has gathered and worsened, which can lead to the changes you actually want.
Discussing Teeth Whitening Treatment With Your Dentist
At your dentist's office, you can discuss what teeth whitening treatment can do for you. We can provide custom kits that our patients are free to use from their homes. Your kit will include potent bleaching agents alongside trays that make them easier to apply. By following the instructions provided to you and using your whitening treatments each day, you can make noticeable changes to your appearance by doing something about the embarrassing enamel stains that have held you back.
Why You Might Want To Explore Other Cosmetic Services
If you have problems with your tooth color because of the structure under your enamel, or after an injury or advanced cavity, a different solution can be needed to improve your appearance. With custom porcelain veneers, we can hide intrinsic discoloration and any other flaws that affect your smile. This is work that we can complete in as little as two appointments!
Talk To Your Charles City, IA Dentist About Making Your Teeth Whiter
Our Charles City, IA dentist's office is ready to meet with individuals who are curious about how they can make their teeth whiter. By selecting and moving forward with the right procedure, we can help you see great results, and we can offer guidance and encouragement to make sure that your improvements last. If you would like to learn more, please contact Central Park Dentistry at (641) 228-1115.
Call Central Park Dentistry in Charles City, IA Today!
At Central Park Dentistry, we offer a variety of dental treatments that are customized for each member of your family, including in-house root canal treatment, tooth extractions, dental implant placement, and same-day emergency dental visits, when necessary. To schedule a consultation or dental appointment with Dr. Hansen, call our dental office in Charles City, IA today at (641) 228-1115. We also proudly welcome patients from Osage, New Hampton, Greene, Nashua, Nora Springs, Riceville, and all surrounding communities.