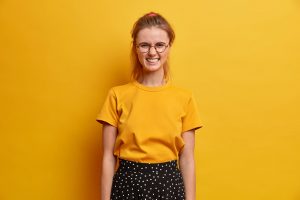 As you struggle to manage stress, you can start to experience a worrying change in your nightly rest. Instead of sleeping peacefully, you may begin to grind and clench your teeth while you sleep. This issue, known as bruxism, can lead to trouble with your smile and oral health. Over time, the mounting stress on your jaw joints and muscles can lead to pain as well as bite difficulties. You can also wear down your enamel, something that can produce problems with chipped or cracked teeth. At our Charles City, IA dentist's office, we can provide protection in the form of a custom oral appliance. If you have already noticed an unwelcome change in your smile because of teeth grinding, you can look into cosmetic dental work or even restorative treatment when necessary.
Stress Can Lead To A Harmful Teeth Grinding Habit
Stress can have several negative effects on your health when you are not managing it, or when high levels of stress persist over time. One effect is the onset of a teeth grinding habit. You can do more harm to your teeth than you realize when you clench or grind your teeth, something that can result in smile and oral health problems. If necessary, we can restore teeth with porcelain veneers, or we can even recommend dental crowns when enamel damage affects your well-being.
Protecting Your Smile While You Sleep
With a custom oral guard, you can sleep soundly without worrying that you will continue to damage your smile. A custom guard will keep your teeth apart throughout the night, which means no more damage from bruxism. This can also ease tension on your jaw joints and muscles. The sooner you take action and receive your guard, the sooner you can sleep without concern for your smile and oral health!
Don't Let Periods Of Stress Interfere With Your Oral Hygiene Efforts!
At stressful times, people can change their routines in ways that they do not fully realize. For example, you may have a tendency to reach for less healthy snacks during the day, or have a weakness for sweets that put your smile in jeopardy. If stress affects your rest, you can be less attentive about your smile care routine on a daily basis. Fortunately, your dentist can help you protect your smile by providing consistent preventive care at every routine dental exam and cleaning. During these visits, we can warn you about early signs of trouble and help you stay on track with your oral care!
Talk To Your Charles City, IA Dentist About Your Bruxism Difficulties
While stress is not the only issue that can lead to teeth grinding issues, you should be aware that unresolved teeth grinding can occur in times of stress. If the habit persists, it can lead to chronic aches and pains as well as alarming dental damage! To find out more about how our practice can help you deal with this problem, or to discuss any other ongoing oral health concern that you have, please contact Central Park Dentistry at (641) 228-1115.
Call Central Park Dentistry in Charles City, IA Today!
At Central Park Dentistry, we offer a variety of dental treatments that are customized for each member of your family, including in-house root canal treatment, tooth extractions, dental implant placement, and same-day emergency dental visits, when necessary. To schedule a consultation or dental appointment with Dr. Hansen, call our dental office in Charles City, IA today at (641) 228-1115. We also proudly welcome patients from Osage, New Hampton, Greene, Nashua, Nora Springs, Riceville, and all surrounding communities.