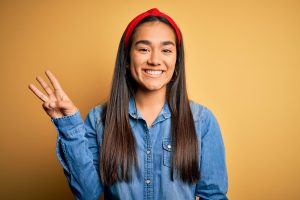 Grinding your teeth at night can lead to more than just uncomfortable mornings. People who experience trouble with bruxism cause increasing harm to their enamel by consistently grinding and clenching while they sleep. Over time, this can lead to chronic discomfort, and it could do enough harm to your smile to require restorative dental work! During a routine dental checkup, your Charles City, IA dentist can identify warning signs of bruxism and talk to you about treatment. With a custom guard, you can make sure your teeth are not at risk for harm while you rest. If necessary, we can discuss cosmetic services to restore teeth that look worn or misshapen because of grinding.
1. Teeth Grinding At Night Can Cause You To Experience Pain Each Morning
One early warning sign of bruxism can greet you when you wake up – after a night of grinding your teeth, you can start your day with pain and stiffness in your face and jaw. Sensitivity or pain in your teeth can also be a concern. As the problem continues, it can lead to trouble with aches and pains that last throughout the day.
2. Bruxism Makes You More Likely To Experience TMJ Disorder
Bruxism and TMJ disorder are often linked, as either condition can be responsible for the onset of the other. If you have been grinding your teeth and not managing the problem, you may begin experiencing chronic pain and stiffness in your jaw that makes biting, chewing, and speaking less comfortable. You may also begin to have problems with headaches and neck pains due to TMJ disorder. Treatment for this condition can call for work to ease tension on the joints and muscles, and may require care to address problems with jaw joint alignment.
3. You Can Cause Serious Damage To Your Enamel Over Time
As your enamel is worn down by your habit, you may notice that your teeth look misshapen or flat. If these problems affect the way you look, we can discuss cosmetic dental services to improve their shape. If your problems with bruxism continue, the damage can be serious enough to require dental crowns. While our teeth are remarkably strong, the persistent wear and tear from bruxism can be a serious hazard to their well-being, which is why you should be careful not to put off care if you suspect something is wrong.
Talk To Your Charles City, IA Dentist About Bruxism
Our Charles City, IA dentist's office is ready to help patients who are struggling with bruxism. If you think you may be grinding your teeth while you sleep, letting your dentist know can lead to treatment, which can lead to protection and any necessary restorative services. To find out more about our practice and services, contact Central Park Dentistry at (641) 228-1115.
Call Central Park Dentistry in Charles City, IA Today!
At Central Park Dentistry, we offer a variety of dental treatments that are customized for each member of your family, including in-house root canal treatment, tooth extractions, dental implant placement, and same-day emergency dental visits, when necessary. To schedule a consultation or dental appointment with Dr. Hansen, call our dental office in Charles City, IA today at (641) 228-1115. We also proudly welcome patients from Osage, New Hampton, Greene, Nashua, Nora Springs, Riceville, and all surrounding communities.