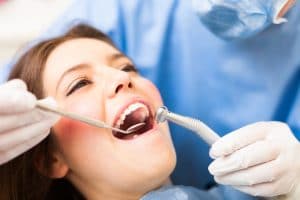 Cleaning your teeth properly is an important factor in maintaining good oral health. However, even if you are brushing your teeth efficiently twice a day and flossing at least once a day, you could still have unknown or unseen issues with your smile. For this reason, it is imperative that you attend your twice-yearly checkups and cleanings. No matter your age, your Charles City, IA family dentist is ready to make sure that your smile stays beautiful and healthy.
Checkups for Children
As a family dentistry practice, we recognize that children's teeth need different care than adult teeth. The American Dental Association recommends that people of all ages with healthy teeth visit the dentist every 6 months, and, at Central Park Dentistry, we recommend that your child attends their first visit when they are around two years old. It is important to the development of little teeth that a dentist can record and watch for any signs of issues as they arise to make sure that your child's teeth stay healthy as they grow. At a child's checkup, they will receive a cleaning and exam, and can also receive a fluoride treatment to strengthen the enamel on their teeth and protect against cavities. Additionally, we offer sealants, a thin layer of acrylic that is painted onto the biting surface of the molars as an extra layer of protection against the bacteria that causes cavities. These procedures are simple and quick- just two appointments a year can ensure that your child's teeth develop healthily and that any problems are caught as soon as possible.
Regular Cleanings for Adults
Regular cleanings are important for adults as well as children. Though we may have better fine motor skills and therefore be more adept at brushing and flossing thoroughly, dentist visits remain essential. At your appointment, you will have your teeth cleaned professionally to help you maintain healthy hygiene practices. Then, Dr. Hansen will perform a dental exam, looking for tooth decay and gum disease, which affect a large percentage of adults. During your visit, Dr. Hansen will also perform a screening to check your teeth and mouth for signs of oral cancer. With all oral diseases, early detection is extremely important for faster and more effective treatment, so making sure that you attend your regular dental appointments can be the buffer that prevents more serious complications.
Is Your Smile Due for a Checkup?
Dental checkups are just as important for adults as they are for kids. So, if you are due for a visit, and especially if you suspect any issues with your teeth, be proactive about your oral health and schedule a visit by calling Central Park Dentistry in Charles City, IA, today at (641) 228-1115. We also proudly welcome patients from Osage, New Hampton, and all surrounding communities.