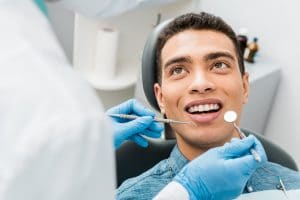 With Thanksgiving around the corner, time is running out to schedule a visit for a checkup and cleaning. Routine visits help protect children and adults alike from serious oral health concerns, from cavities to gum disease. In today's blog, your Charles City, IA, dentist will look at what we can do protect smiles, and how often you should see us for a checkup and cleaning!
The Dental Exam
The American Dental Association recommends a routine visit for patients of all ages once every six months, or once every three to four months if they have gingivitis or gum disease. These visits enable our team to monitor smiles over time, watching for signs of trouble and them addressing these concerns in the earliest possible stages. Addressing them early often means no need for extensive treatments, and also that patients steer clear of serious complications, such as tooth loss. During your exam, we will use advanced technology to create a detailed picture of your oral health, watching for signs of tooth decay, gingivitis, gum disease, TMJ disorder, and bruxism (teeth grinding). We can also screen for oral cancer as well!
Dental Cleanings (and Deep Cleanings)
During the visit, we will also clean your teeth, a procedure that takes only a few minutes and is hugely beneficial for children and adults alike. Having your teeth cleaned enables our team to remove all plaque and tartar from the surface of the teeth. A bacterial byproduct, plaque could otherwise wear down tooth enamel and inflame gum tissue, increasing the risk of cavities and periodontal issues. Removing these layers involves the use of an ultrasonic scaler and a manual tool. Afterward, we polish the teeth. In addition to improved oral health, patients also enjoy fresher breath and brighter teeth!
But what if we find you already have gingivitis, or the very early stages of gum disease? In these scenarios, you may need more than a traditional dental cleaning. Instead, we will offer a scaling a root planing, which removes serious plaque and tartar buildup and also smooths the root surfaces as well. The procedure can take between one and four visits, depending on the extent of your buildup, and helps restore the health of your gum tissue. The procedure reverses gingivitis and manages gum disease, protecting smiles for the advanced stages linked to adult tooth loss. If you have any questions, then contact our team today.
Schedule an Appointment Today
Let's say goodbye to 2019 with a healthier smile for you and your family. To learn more about our approach to dental care for kids and adults, schedule a visit by calling Central Park Dentistry in Charles City, IA, today at (641) 228-1115. We also proudly welcome patients from Osage, New Hampton, and all surrounding communities.
Call Central Park Dentistry in Charles City, IA Today!
At Central Park Dentistry, we offer a variety of dental treatments that are customized for each member of your family, including in-house root canal treatment, tooth extractions, dental implant placement, and same-day emergency dental visits, when necessary. To schedule a consultation or dental appointment with Dr. Hansen, call our dental office in Charles City, IA today at (641) 228-1115. We also proudly welcome patients from Osage, New Hampton, Greene, Nashua, Nora Springs, Riceville, and all surrounding communities.