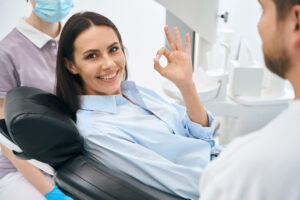 Regular dental exams are critical when it comes to taking care of your oral health. Exams help us identify problems below the surface, including impacted teeth, tooth decay, oral disease and more. 
Our Charles City, IA, dentist can help keep your oral health in check and keep your smile as bright as possible. If you haven't seen us in a while, here are five reminders why routine checkups are so important! 
1. X-Rays Reveal Issues Below the Surface
No matter how diligent of a brusher and flosser you are, there are still some things that can't be seen without the proper equipment and imaging. X-rays can detect issues such as impacted teeth and can also show any problems you might have in your jaw or mouth. 
2. Detecting Oral Disease 
It's important to have a professional examine your mouth — not just for the sake of healthy teeth, but also to screen for major conditions such as oral disease and oral cancer. During a screening, we'll check for abnormalities and lesions on the throat, tongue and lips. If there are any concerning signs or lesions that appear cancerous or pre-cancerous, we'll determine the next steps.
Gum disease and gingivitis can also be identified during a dental exam. Each of these conditions requires the proper treatment to prevent further complications, such as uncomfortable inflammation, periodontal disease and even tooth loss. 
3. Exposing Cavities and Decay
It's important to address cavities and tooth decay for the sake of your oral health. 
How are cavities formed? When bacteria eats the carbohydrates and sugar found in the mouth, it breaks them down into acid. The tooth enamel reacts with the acid and can cause cavities.
What causes tooth decay? Poor hygiene (not brushing or flossing) and eating or drinking things with a high sugar content can cause cavities or decay.
In most cases, decay is not visible until its latter stages. And cavities may not be visible depending on their location. A checkup is the best way to identify either condition and address them in a timely manner. 
4. A Thorough Cleaning Prevents Damage
Daily brushing and flossing are superb habits, but even so, plaque and tartar can build up in some areas. Both tartar and plaque can cause erosion and decay. If either forms along your gumline, it can lead to periodontal disease (the leading cause of tooth loss). Having your teeth cleaned thoroughly twice a year is the best way to prevent harm to your smile.
5. Helping to Address Poor Habits
Certain behaviors can be hard on your teeth. This can include smoking, eating or drinking foods and drinks with a lot of sugar or acid, clenching your jaw, grinding your teeth, and the list goes on. During a visit, we'll assess any damage that may have been done due to such habits and tell you how to avoid them in the future.
Schedule Your Next Checkup Today!
It's very important to see a professional twice a year for a checkup and cleaning, even if you already have great dental hygiene habits! Some things just can't be revealed without a proper checkup, but we are here to help. To schedule your next visit or to learn more, give us a call at Central Park Dentistry in Charles City, IA at (641)228-1115!