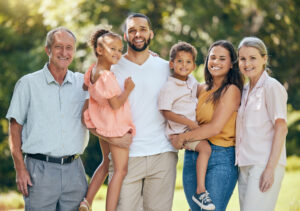 The consistent maintenance of your smile is vital in giving you the ability to look and feel your best as you age. Patients of all ages should see a qualified dental provider every six months, so that you have the tools you need to keep yourself safe from harm. Bacteria can grow deep in areas of the mouth where you might not be able to fully clean on your own, leading to the accumulation of a harmful film known as plaque. If this remains on the surface of your teeth, it will harden into another form called tartar. At this point, you will need the assistance of a dental hygienist to safely smove this material.
If you are the parent of a child, use your semiannual checkups with Central Park Dentistry in Charles City, IA as a teaching moment. Your little ones take their cues from you, so if you show them that their examinations and cleanings are part of healthy development, you have the opportunity to be a positive role model.  Set aside the time to ensure that your whole family receives quality dental treatment!
Your Schedule Is Vital In Your Family's Care
As a parent, you understand the stressful nature of keeping everyone on a proper schedule. Beyond their concerns, you have to balance your own professional needs, and sometimes it can feel difficult to fit in your necessary errands. Do not put off the dental appointments for your family, though, as any issues can progress into more significant problems.
Regardless of age, every member of your family should see the dentist at least twice a year. Some patients require more frequent visits, in order to catch diagnoses quickly; if you or a member of your family has a different timeline, it is crucial that you take their special needs into account.
Be A Positive Role Model By Showing Them How To Be Strong
Your children look to you for guidance and affirmation. When you schedule your cleaning and examination alongside them, you have the opportunity to be a positive influence. Dental habits start early and can often be difficult to retrain, so keep your whole family's dental wellbeing at a high level with consistent visits.
The spring is a fantastic time to schedule your cleanings and examinations, as it signals a new energy. As the flowers bloom, bring your children in for their appointment for a checkup!
Keeping The Focus On What Matters In Charles City, IA
Speak with our team at Central Park Dentistry in Charles City, IA at (641)228-1115 and schedule an appointment with Dr. Hansen, DDS. Keep your schedule of cleanings and examinations, so your whole family receives quality dental care at least twice each year.