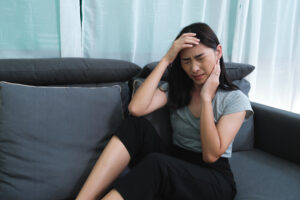 How often do you wake up feeling pain in your face and jaw? Is dental sensitivity part of your typical morning? If so, you could be experiencing problems with bruxism, a tendency to unconsciously grind your teeth, which can lead to more than just discomfort in time. Eventually, the habit of grinding and clenching your jaw can lead to serious dental damage as well as problems with jaw alignment and movement that cause you more discomfort. At our Charles City, IA dentist's office, we are ready to help you take on difficulties that you have with this issue. In addition to protecting you against further harm from grinding and clenching at night, we can recommend any appropriate services if you need dental work for damaged enamel.
Bruxism Is Not A Problem To Take Lightly
When you start to suspect that bruxism is a problem for you, take the matter seriously and bring it up with your dentist. Without the right treatment approach, this tendency to grind and clench your teeth at night can lead to serious harm to your teeth. People who wait too long to take action can find themselves scheduling cosmetic dental work or even restorative dental services to take on the harm to their enamel.
Dealing With Nightly Teeth Grinding
To effectively stop teeth grinding from doing any further harm while you rest, we can provide you with a custom oral appliance. A guard will keep your teeth apart while you rest, which means no friction from grinding and clenching occurs. Thanks to its careful design and secure fit, you can rely on yours to remain in place and keep your smile safe.
Dealing With Damaged Enamel
What can you do if you have already suffered enamel damage that affects your smile and oral health? If the harm is severe enough, it may be necessary to treat it with dental crowns. These restorations offer bite support and protection, but they can also effectively restore your smile. Not everyone who goes through treatment for grinding-related damage requires this kind of care. More conservative cosmetic dental procedures can also help. When you are approved for this kind of care, we can correct issues with chips and cracks while limiting changes to your tooth structure.
Talk To Your Charles City, IA Dentist About Treatment If You Experience Problems With Bruxism!
If you start to experience problems with bruxism, letting your dentist know can stop complications from occurring that alter your smile and oral health. We are happy to help you take on this problem, and we can also discuss the possible need for treatment if you have experienced enamel damage. If you would like to find out more, please contact Central Park Dentistry in Charles City, IA today at (641) 228-1115.