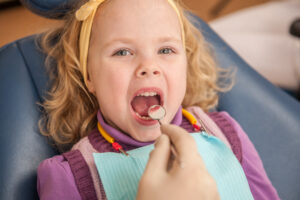 Keeping up with your kids can be tiring, but it is certainly important. When it comes to matters of oral health, younger children especially benefit from their parents' support. With that said, you are not alone in helping them maintain a healthy smile. Your Charles City, IA dentist's office can help you protect your youngsters by providing consistent pediatric dental services! At these appointments, we can provide support that is age-appropriate and comfortable. Early visits can be important for establishing good relationships and making kids more comfortable at future appointments. In addition to gently welcoming them to our office, we can provide beneficial early reviews, encourage good oral hygiene, and offer guidance so that you can better protect their smile between appointments!
Oral Health Is Important At Every Age
As long as you have a smile that you want to protect, you should take your oral health seriously. People of all ages benefit from oral health services, but the way care is approached can change over time. For their earliest visits, kids can require gentle guidance and encouragement. When they are old enough, their appointments can more closely resemble the kind of support that adults receive during their general oral health exams. That being said, these visits can still be adjusted to more closely meet the needs of our youthful patients, as they can put more emphasis on guidance and additional cavity support.
What We Can Do To Help Your Kids Stay Safe From Dental Problems
Beyond providing the kind of support that helps patients of all ages remain safe from cavities and other threats, we can provide special care to help children remain problem-free. During their pediatric dental visits, we can encourage them to practice good brushing and flossing habits, and we can discuss the importance of good habits between appointments. We also rely on fluoride treatments and dental sealants to help our younger patients remain healthy.
We Can Help You Maintain Your Healthy Smile, Too
Through consistent care at home and your own oral health exams, you can lower your risk for problems that require more involved oral health services. In addition to keeping your smile healthy, you can have an easier time teaching your child the importance of oral hygiene by presenting the behaviors that you want them to follow.
Talk To Your Charles City, IA Dentist About Keeping Your Child's Smile Healthy
By providing oral health support for your child at home, and by keeping them current with pediatric dental visits, you can help them grow up with a healthy and confident smile! We can provide ongoing support that helps them stay safe from cavities and keeps you updated on their growth and development. If you have questions or need to book an appointment, contact Central Park Dentistry in Charles City, IA today at (641) 228-1115.
Call Central Park Dentistry in Charles City, IA Today!
At Central Park Dentistry, we offer a variety of dental treatments that are customized for each member of your family, including in-house root canal treatment, tooth extractions, dental implant placement, and same-day emergency dental visits, when necessary. To schedule a consultation or dental appointment with Dr. Hansen, call our dental office in Charles City, IA today at (641) 228-1115. We also proudly welcome patients from Osage, New Hampton, Greene, Nashua, Nora Springs, Riceville, and all surrounding communities.