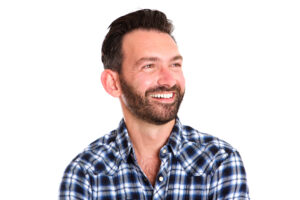 The color of your smile can make you confident in your appearance, or it can make you wish you could keep your teeth completely hidden from view. Over time, many people experience problems with the way they look because of accumulated enamel stains. As the problem worsens and becomes more difficult to ignore, you may start to look at your treatment options. One option is to discuss professional cosmetic dental work. At our Charles City, IA dental practice, we are happy to talk with you about the benefits of a professional teeth whitening procedure. We can also help if we find that you need to do something about intrinsic discoloration, something that can call for a different solution.
Many People Want To Make Changes To The Color Of Their Teeth
Whether your teeth have yellowed because of stains, have a grayish color, or just feel less bright than they used to, it can be hard to ignore problems caused by discoloration. What you can find is that while there are many products that offer help, they can fail to make the kind of changes that you really want to see. Instead of picking up something from your local grocery store or pharmacy, you can contact your dentist and learn what a cosmetic procedure can do for your smile and confidence.
Planning A Professional Whitening Procedure
With a professional teeth whitening procedure, we are able to take on problems with discoloration that stem from teeth stains. The stains you have picked up from different foods and drinks, or from tobacco products, can be more difficult to remove as they settle into place. Fortunately, our practice gives you access to more potent bleaching agents that can break them apart and change how you look for the better. The kits that we prepare for our patients are made to provide results in just a short time, with just ten to fourteen days of daily applications that you perform in the comfort of your home.
Discussing Services That Fix Issues With Intrinsic Discoloration
Some problems with discoloration occur because of changes in the tooth structure. Because the focus in treating these issues is not on fighting external stains, we can rely on something other than teeth whitening agents to help you. Porcelain veneers and tooth bonding treatment can both provide positive changes. These approaches help by covering the surfaces of teeth to hide blemishes as well as problems with tooth shape, size, and condition.
Talk To Your Charles City, IA Dentist About Teeth Whitening Treatment
Whether you need to make your smile by fighting enamel stains or by addressing problems within the tooth structure, we can help! For more information on our approach to cosmetic dentistry, please contact Central Park Dentistry in Charles City, IA today at (641) 228-1115.
Call Central Park Dentistry in Charles City, IA Today!
At Central Park Dentistry, we offer a variety of dental treatments that are customized for each member of your family, including in-house root canal treatment, tooth extractions, dental implant placement, and same-day emergency dental visits, when necessary. To schedule a consultation or dental appointment with Dr. Hansen, call our dental office in Charles City, IA today at (641) 228-1115. We also proudly welcome patients from Osage, New Hampton, Greene, Nashua, Nora Springs, Riceville, and all surrounding communities.