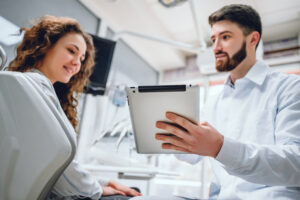 Advanced problems with decay can be prevented. At your regular checkups, your dentist will look out for the early warning signs that treatment is needed, which can lead to a tooth's restoration before an infection can form. When this care is not received in time, the bacteria that cause damage to your tooth structure can make their way to your pulp, your tooth's inner chamber, which can lead to discomfort, sensitivity issues, and other unwelcome changes. How are you going to make sure a tooth is fully treated and restored when you have a severe cavity? At our Charles City, IA dentist's office, we can make sure your vulnerable tooth has the care that it requires by providing a root canal procedure.
What Does A Root Canal Do To Restore Your Oral Health?
A root canal procedure takes care of a tooth that has internal problems because of an advanced cavity, or when physical harm creates trouble with your pulp. To successfully provide this care, your dentist will first need to access the inner area of the structure. Upon doing this, they can clear out infected and damaged tissues that threaten your well-being. After removing bacteria and unhealthy tissues, and after the pulp is sealed, we can move forward with plans to fully restore the tooth with a dental crown.
Providing Protection For Your Tooth After Your Root Canal
Your dental crown keeps your tooth safe after you complete root canal treatment. What makes a crown different from a filling is that a crown will completely surround and cover the structure of the tooth above the gum line. The degree of support this provides makes it easier for you to bite and chew the way you did before, which means you will not have to worry about unwelcome functional changes. If the tooth being treated is visible when you smile and speak, we can provide a restoration that imitates healthy enamel and provides functional support.
Keeping Up With Regular Dental Care
Regular dental checkups keep you informed about your smile. Hopefully, your next appointment will reveal that you have no cavities, and that no other issues need our attention. Checkups and cleanings help you avoid problems as well as find out about them; when you are consistent about visiting, your cleanings and reviews protect against cavities and gum disease, and they let you know when issues are present so that they can be treated early.
Talk To Your Charles City, IA Dentist About Root Canal Treatment
Through root canal treatment, we can take on a problem with your oral health that puts your tooth and overall oral health at risk. If you are concerned you might have a serious dental issue, or if you have any other concerns about your smile, please contact Central Park Dentistry in Charles City, IA today at (641) 228-1115.