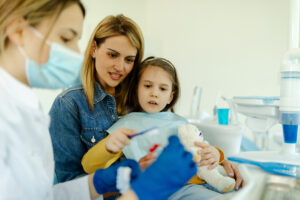 Parents are tasked with caring for their kids' teeth as well as their own. For younger children in particular, direct support is required, but even as they age, your little ones can benefit from your oversight and guidance. Fortunately, when you find the right practice, you can count on smile support that benefits everyone in your household! Our Charles City, IA dentist's office is here to provide all-ages care for patients interested in oral health services. Pediatric dental appointments provide protection, guidance, and oversight for your child's developing oral structures. The support we offer adults will help with the prevention of troubles like tooth decay and gum disease, issues that can negatively impact your well-being along with your appearance!
Relying On A Single Dental Office To Protect Your Family
If you have one dental office that can meet with everyone in your household, you can have an easier time scheduling and attending the routine appointments you should work to keep up with. You can also find it easier to help introduce your kids to smile care. After all, they can see you at ease with treatment in the same place you bring them, which can provide a sense of reassurance. You can also continue to bring them to the same location, which means you will not be forced to look for a new office because your young ones aged out of care with their pediatric dentist.
What Regular Dental Appointments Provide For Our Youngest Patients
For kids, regular dental checkups provide a necessary introduction to smile care as well as early feedback about the development of their oral structures. During their earliest pediatric dental appointments, we work on making our littlest patients feel welcomed during gentle visual examinations and introductions to smile care. Over the years, we can provide care that more closely resembles the support that adults receive. During these visits, we can help them learn to care for their teeth on their own, something that helps them develop good habits and put them into practice so that you can count on them to manage their oral hygiene without your direct involvement.
The Importance Of Reliable Dental Care For Adults
Remember that your oral health care continues to be important even as you prioritize caring for your kids. During your own oral health evaluations, you can receive early warnings about threats like dental decay and gum disease. You also receive care in the form of preventive cleanings and evaluations to make new issues less likely to occur.
Talk To Your Charles City, IA Dentist About Smile Support For Your Family!
Although a person's specific needs may change through the years, you continue to benefit from the care provided at the dentist's office! At our Charles City, IA dental practice, we can help kids as well as adults enjoy the kind of support that will keep them healthy as well as confident in their appearance. If you need to set up appointments for the people in your household, please contact Central Park Dentistry in Charles City, IA today at (641) 228-1115.
Call Central Park Dentistry in Charles City, IA Today!
At Central Park Dentistry, we offer a variety of dental treatments that are customized for each member of your family, including in-house root canal treatment, tooth extractions, dental implant placement, and same-day emergency dental visits, when necessary. To schedule a consultation or dental appointment with Dr. Hansen, call our dental office in Charles City, IA today at (641) 228-1115. We also proudly welcome patients from Osage, New Hampton, Greene, Nashua, Nora Springs, Riceville, and all surrounding communities.