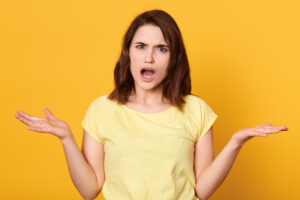 If you have problems with the way your teeth look, cosmetic dentistry can give you the ability to take on flaws and make real improvements to your appearance. However, you may feel as though the right results will only come from metal braces if your issues have to do with poor teeth spacing. Instead, many people can qualify for care with Invisalign aligners. Through the use of Invisalign treatments, our Charles City, IA dentist's office has helped many patients take on issues with how they look. Relying on clear aligners instead of a fixed appliance can make orthodontic improvements feel more accessible. This procedure can discreetly help you take on gaps, overlaps, and general problems with smile spacing without permanently altering your tooth structure.
Using Invisalign To Fix Problems With Teeth Spacing
Problems with teeth spacing can give you embarrassing overlaps between teeth that you want to hide, and they can also leave you with unsightly gaps. Ultimately, this issue can create isolated flaws as well as larger concerns because your smile seems uneven and asymmetrical. What can you do to put this issue in the past? Instead of turning to metal braces, you can look into Invisalign to make exciting cosmetic smile improvements!
Planning Your Treatment With Custom Aligners
Patients who choose Invisalign treatment will rely on a set of clear aligners to gradually move their teeth. Each appliance represents part of a larger plan to guide teeth into their proper spaces. As you move from one to the next, you can marvel at how your smile is becoming more symmetrical, and at how gaps and overlaps attract less attention. Because these appliances are easy to remove as well as hard to see, you can be grateful to have a treatment that minimizes changes to your daily life.
We Offer Different Options For Cosmetic Treatment
We understand that people have different needs and concerns when it comes to cosmetic work. For those who want to do something about the color of their teeth, we can recommend a whitening procedure. For those who have issues with the shape or size of teeth, we offer additional services, such as care with porcelain veneers as well as tooth bonding and contouring work.
Talk To Your Charles City, IA Dentist About Invisalign Treatment
With Invisalign treatment, we can make it easier for patients to fix embarrassing problems with teeth that are out of position. A discreet appliance for making corrections can make care feel more accessible while still delivering exciting changes. We offer this as one of many services that lead to welcome smile improvements. If you would like to find out more about how we can take care of you, please reach out to Central Park Dentistry in Charles City, IA today at (641) 228-1115.
Call Central Park Dentistry in Charles City, IA Today!
At Central Park Dentistry, we offer a variety of dental treatments that are customized for each member of your family, including in-house root canal treatment, tooth extractions, dental implant placement, and same-day emergency dental visits, when necessary. To schedule a consultation or dental appointment with Dr. Hansen, call our dental office in Charles City, IA today at (641) 228-1115. We also proudly welcome patients from Osage, New Hampton, Greene, Nashua, Nora Springs, Riceville, and all surrounding communities.