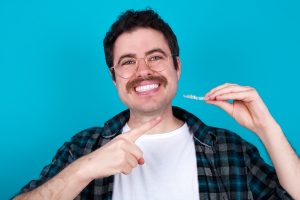 Because they are reluctant to start a procedure that relies on fixed, hard-to-miss metal braces, people affected by malocclusion may avoid treatment. If you are someone who has issues with the alignment of their teeth, it can be beneficial to look into treatment with Invisalign aligners! Through the use of Invisalign appliances, you can correct issues with gaps and overlaps discreetly, as your aligners will be difficult to see. This approach offers another important benefit – you can remove appliances whenever they are in your way! Our Charles City, IA dentist's office can provide treatment to resolve your issues with poor alignment. In some cases, we can even discuss cosmetic dental procedures that can address visible flaws in less time!
How Invisalign Improves Smiles Through Discreet Corrective Work
Invisalign treatment offers an important advantage over treatment with traditional metal braces. You can use this approach to fix problems with the spacing of your teeth discreetly, as your aligners will be made from a clear material that is difficult for others to see. As a result, you can feel more comfortable proceeding with corrective work even if you are more concerned about maintaining your appearance in social or professional settings. You can also be glad to have aligners that you can remove at your convenience, as this gives you more control over your adjustment.
What To Expect After You Start Invisalign Treatment
You will only begin Invisalign treatment after your personalized aligners are prepared and provided to you. These appliances will be custom-made to fit properly and ensure the proper movements of teeth occur. It is important that you wear your aligners throughout the day to stay on track to complete your adjustment at the expected time. Of course, this does not mean that you can never remove them during the day – you are free to take aligners out when you eat or clean your teeth.
What Else Can You Do To Address Visible Gaps Or Overlaps Between Teeth
For some patients, it may not be necessary to use orthodontic treatment to hide gaps or overlaps between teeth. If you qualify, we can discuss other cosmetic services, such as the placement of porcelain veneers to give your smile a symmetrical look. Veneers can be permanently placed after two appointments, making this a faster approach. It also makes it possible for us to address other concerns, such as dental damage or discoloration, so it can lead to more improvements overall.
Talk To Your Charles City, IA Dentist About Invisalign!
With Invisalign aligners, you can discreetly take care of problems that you have with the spacing of your teeth! Our Charles City, IA dentist's office provides this and other services to people in our community interested in making positive smile changes. To find out more, please contact Central Park Dentistry at (641) 228-1115.
Call Central Park Dentistry in Charles City, IA Today!
At Central Park Dentistry, we offer a variety of dental treatments that are customized for each member of your family, including in-house root canal treatment, tooth extractions, dental implant placement, and same-day emergency dental visits, when necessary. To schedule a consultation or dental appointment with Dr. Hansen, call our dental office in Charles City, IA today at (641) 228-1115. We also proudly welcome patients from Osage, New Hampton, Greene, Nashua, Nora Springs, Riceville, and all surrounding communities.