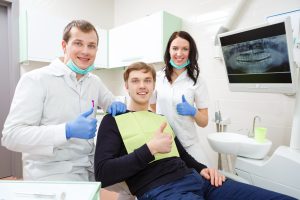 If you experience problems with tooth decay, your dentist will have to do something about the portion of your tooth that is damaged by poor health. When the problem is caught in time, you can have work done with a discreet, durable dental filling that imitates your tooth structure. When it is put in place by your Charles City, IA dentist, it will provide lasting stability and protection for a damaged area. The material that we use to protect your tooth is able to bond to your enamel as well as imitate it! We should note that cavities can become too serious for this treatment approach. If this happens, we can move forward with more involved care.
A Dental Restoration Has To Be Put In Place If You Undergo Cavity Treatment
If you have to have work done because of a cavity, you should know that your care will not conclude until you have a dental restoration put in place. Without it, your tooth stays in a vulnerable state, as we are not able to naturally heal from the damage that occurs when cavities form on our teeth. Fortunately, the coverage from a discreet dental filling will keep you healthy and ensure that you can still bite and chew without difficulties.
Receiving A Dental Filling That Matches Your Tooth Structure
Composite resin material that we use for dental fillings can be applied directly to your tooth structure to bond to it. Once applied, it will adhere to the surface of your tooth to provide a secure hold. That stability offers more than just protection against an infection or damage. It can keep your tooth strong enough to continue providing bite support, so you will not have to change your dental function to work around discomfort or a potential injury. In addition to looking more attractive than an amalgam restoration, your resin filling is less reactive when exposed to temperature extremes, so it is less likely to lose its shape.
We should note that for back teeth that absorb more pressure when you bite and chew, a metal filling can still be beneficial. This is because they offer more strength against your bite pressure, which will help you avoid difficulties over time.
Talk To Your Charles City, IA Dentist About Receiving A Lifelike Filling
Treatment for a cavity will have to include the placement of a restoration. Without one, your tooth would remain vulnerable to problems, and it would leave you without functional support. At our Charles City, IA dentist's office, you can enjoy smile care that will not change the way you look when you have a custom dental filling put in place! Your restoration can match your enamel and provide lasting support to keep your tooth healthy. If you would like to find out more, contact Central Park Dentistry at (641) 228-1115.
Call Central Park Dentistry in Charles City, IA Today!
At Central Park Dentistry, we offer a variety of dental treatments that are customized for each member of your family, including in-house root canal treatment, tooth extractions, dental implant placement, and same-day emergency dental visits, when necessary. To schedule a consultation or dental appointment with Dr. Hansen, call our dental office in Charles City, IA today at (641) 228-1115. We also proudly welcome patients from Osage, New Hampton, Greene, Nashua, Nora Springs, Riceville, and all surrounding communities.