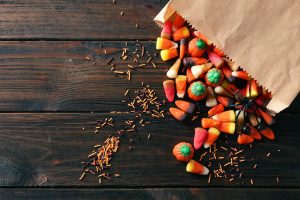 What kind of risks do we face when it comes to smile care? On a typical day, you can do an effective job protecting your smile when you make smart diet choices and care for your enamel through thorough brushing and flossing. As we approach Halloween, your ability to prevent issues with decay can be complicated by your increased access to sweets. We often think about what we can do to make sure kids maintain healthy teeth at this time of year, but be mindful of your habits, too. Even a small change in your diet can tip your cavity risk in ways that should concern you. At our Charles City, IA dentist's office, we can provide guidance on dental care that will help you avoid difficulties with your dental health during your routine preventive services.
Do Halloween Treats Make Smile Care Trickier?
Simply put, the more sugar you consume in a given day, the more you should worry about your cavity risk. In the weeks (and certainly the days) leading to Halloween, it can be hard to ignore the candy that surrounds us at stores, greets us in the office, or sits in our homes for distribution to the trick-or-treaters who we expect to see. While it is always important to think about the relationship between your diet and your oral health, it is especially important to think about your relative risks at this time of year. If you are overdue for a dental exam, this is certainly a good time to make an appointment and confirm your teeth are healthy.
Stay Consistent With Your Smile Care Routine
No matter what is happening with your diet, you should think seriously about your smile care routine on a daily basis. Without the right commitment to thorough brushing and flossing, you can be more likely to have problems that will require restorative dental services. You should care for your teeth by brushing two times a day, and by flossing each night. Flossing is a valuable practice because it will remove bacteria and food deposits from areas that are not easy to reach with your toothbrush alone. When you do brush, spend at least two minutes on the task to make sure you reach even those spaces that are easy to miss.
Maintaining Your Smile When You Have More Access To Holiday Sweets
There are certain actions you can take to protect your smile during the holidays. If you anticipate eating more sweets, focus on planning healthier meals and snacks to offset this increase in sugar. Drinking water throughout the day will help you wash food debris and keep your enamel safe. Of course, it is important to set limits even if you have other beneficial habits in place. Restricting your intake of Halloween candy is an important way to lower your overall smile risks.
Your Charles City, IA Dentist Can Help You Protect Your Smile
Our Charles City, IA dentist is here to help you protect your smile throughout the year. That support can be especially important around a holiday like Halloween, as you can expect to consume more sweets that put your smile at risk. For more information or to schedule your next dental visit, please contact Central Park Dentistry at (641) 228-1115.
Call Central Park Dentistry in Charles City, IA Today!
At Central Park Dentistry, we offer a variety of dental treatments that are customized for each member of your family, including in-house root canal treatment, tooth extractions, dental implant placement, and same-day emergency dental visits, when necessary. To schedule a consultation or dental appointment with Dr. Hansen, call our dental office in Charles City, IA today at (641) 228-1115. We also proudly welcome patients from Osage, New Hampton, Greene, Nashua, Nora Springs, Riceville, and all surrounding communities.