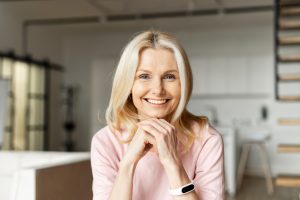 Unfortunately, a cavity or dental injury will leave a tooth with permanent damage. While strong, our enamel is limited in its ability to recover from harm, which is why restorative dental services include work to provide permanent protection. A custom dental crown can provide support for a chipped or cracked tooth, or one that is affected by advanced decay. Our Charles City, IA dentist's office can make sure that your restoration fits securely, and that it provides support that lets you sustain a natural bite. We provide restorations made from several material types, including materials that can imitate healthy enamel to preserve your smile.
Will You Need A Dental Crown As Part Of Your Restorative Treatment?
A restorative dental procedure does not always require that a tooth receive a crown. However, some form of protection is needed. With a custom dental filling, we can provide lasting protection while only making limited changes to your enamel. The filling is applied directly to the area where a cavity did damage to your enamel. While this is a more conservative treatment option, it is not always the appropriate way to deal with damage. When called for, we will completely envelop a tooth with a custom crown to protect it.
We Offer Crowns Made From Different Material Types
Why do we provide options when it comes to dental crown material types? For your back teeth, which are less visible but responsible for absorbing more bite pressure, a strong substance is more appropriate. We can use a metal restoration to provide protection and still ensure you can bite and chew without problems. If you need work done on a tooth that is more visible whenever you smile and speak, we can provide a restoration made from porcelain or zirconia to prevent issues with your appearance that make you unhappy.
Avoiding Future Oral Health Difficulties
While you can count on a crown to provide lasting protection and stability for a vulnerable tooth, you should commit to preventing further trouble with your smile that calls for restorative treatment. The good news is that your dentist can help with this! At every routine dental exam and cleaning, you receive protection against harmful agents that cause dental decay. At a regular checkup, we can also look out for signs of trouble that we can address with a dental filling, limiting the amount of work you ultimately go through to have your tooth restored.
Talk To Your Charles City, IA Dentist About Receiving A Custom Crown
At our Charles City, IA dentist's office, we can make sure your smile is fully restored and protected with a custom crown! To learn more about our restorative services, or to discuss other matters that can affect your appearance and dental health, please contact Central Park Dentistry at (641) 228-1115.
Call Central Park Dentistry in Charles City, IA Today!
At Central Park Dentistry, we offer a variety of dental treatments that are customized for each member of your family, including in-house root canal treatment, tooth extractions, dental implant placement, and same-day emergency dental visits, when necessary. To schedule a consultation or dental appointment with Dr. Hansen, call our dental office in Charles City, IA today at (641) 228-1115. We also proudly welcome patients from Osage, New Hampton, Greene, Nashua, Nora Springs, Riceville, and all surrounding communities.