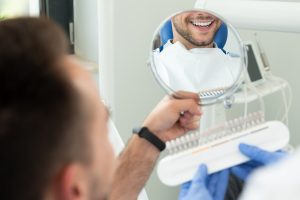 When you put effort into maintaining good daily oral hygiene efforts and see your dentist for regular dental checkups, you can keep yourself safe against potential cavities. Unfortunately, cavities are a common concern, and they can affect people who believe they have a strong preventive care routine in place. If you find yourself in need of treatment to address decay, know that your Charles City, IA dentist can take care of your tooth and protect it with a dental filling or dental crown that preserves your health and appearance. Before recommending a specific procedure, we will closely check your tooth to determine how serious the damage is and what we can do to make sure it has lasting protection.
A Tooth Can Be Restored Without Changing Your Appearance
After dealing with a cavity, we will have to restore your tooth with a dental filling or dental crown. Even if the problem was caught early, decay will still leave your tooth permanently damaged. The good news is that the restoration you receive can imitate your healthy enamel. In addition to using tooth-colored fillings that bond with and imitate healthy enamel, we can offer crowns that are made with porcelain or zirconia. Both of these materials are used to create restorations that can match the look of your healthy tooth structure and provide both cosmetic and functional value.
What Type Of Restoration Will You Need?
The choice to use a filling or crown will depend on what condition your tooth is in when you go in for treatment. If the problem is caught in time, we can treat you with a dental filling. This is the more conservative treatment option, as it only covers the span of where your cavity formed. However, if too much damage occurs, we will use a crown to completely cover the tooth and protect it from harm. While the crown provides more support, more preparatory work is needed to place it.
Why Root Canal Treatment Is Sometimes Necessary
Eventually, a cavity will cause an infection, as the damage to your enamel makes you vulnerable to infection. In these situations, it is necessary to perform root canal therapy to remove bacteria and unhealthy tissues from your pulp. When not treated, an infection can spread beyond the tooth and cause more problems for your oral health.
Talk To Your Charles City, IA Dentist About Scheduling A Cavity Treatment
Our Charles City, IA dentist's office is ready to take care of your tooth if you experience problems with tooth decay. We provide restorations that imitate healthy tooth structure as well as preventive exams to keep you from experiencing problems that require treatment. If you would like to find out more, please contact Central Park Dentistry at (641) 228-1115.
Call Central Park Dentistry in Charles City, IA Today!
At Central Park Dentistry, we offer a variety of dental treatments that are customized for each member of your family, including in-house root canal treatment, tooth extractions, dental implant placement, and same-day emergency dental visits, when necessary. To schedule a consultation or dental appointment with Dr. Hansen, call our dental office in Charles City, IA today at (641) 228-1115. We also proudly welcome patients from Osage, New Hampton, Greene, Nashua, Nora Springs, Riceville, and all surrounding communities.