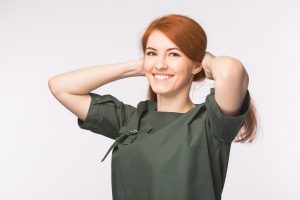 If you start to lose confidence because your teeth look dull and discolored, a teeth whitening treatment can seem like an obvious solution. While store bought whitening products may provide only limited improvements, a professional whitening kit can do more by removing stains that are harder to address. Does this mean that you should go ahead and make arrangements for a whitening treatment? At our Charles City, IA dental office, we can evaluate your teeth to see if this is the right approach for you, or if you could benefit more from another cosmetic dental procedure. Some people suffer form intrinsic discoloration, which refers to problems within your tooth structure that affect your appearance. When these problems are responsible for someone's teeth looking dull or discolored, alternative treatments like the placement of porcelain veneers can be beneficial.
Do Stains Currently Hurt The Quality Of Your Smile?
Dental discoloration can become a problem over time for many people. It can be difficult to keep track of all of the foods and drinks that are capable of causing stains to gather on our enamel. When these problems arise, they make people concerned by making their teeth appear older, less healthy, and less attractive. After using a store bought whitening kit, you can grow even more concerned, because you may see only limited results. Your dentist can study your teeth to see if you could benefit from professional whitening treatment, or if you should look into another treatment approach.
Taking Home A Personalized Whitening Treatment Kit
You can take home a customized whitening kit that includes trays that make the daily application of your bleaching agents easier. With these trays and the potent whitening treatment your dentist provides, you can begin to deal with deeper stains that you have picked up over time. With just ten to fourteen days of daily treatments, you can fight embarrassing stains and look forward to seeing exciting smile improvements!
Arranging Treatment For Intrinsic Discoloration
Internal problems that affect your tooth color can occur after you take certain medications, or a tooth can look darker or duller after being physically injured. For some people, gradual discoloration occurs because of enamel erosion. If any of these issues affect you, a teeth whitening treatment can be less effective at dealing with your smile concerns. Instead, we can recommend services like treatment with porcelain veneers, or we can recommend tooth bonding services to hide these flaws.
Discuss Teeth Whitening Treatment With Your Charles City, IA Dentist!
If you are tired of feeling self-conscious because of a dull or discolored smile, let our Charles City, IA dental office know! To find out how we can help you, please contact Central Park Dentistry at (641) 228-1115.
Call Central Park Dentistry in Charles City, IA Today!
At Central Park Dentistry, we offer a variety of dental treatments that are customized for each member of your family, including in-house root canal treatment, tooth extractions, dental implant placement, and same-day emergency dental visits, when necessary. To schedule a consultation or dental appointment with Dr. Hansen, call our dental office in Charles City, IA today at (641) 228-1115. We also proudly welcome patients from Osage, New Hampton, Greene, Nashua, Nora Springs, Riceville, and all surrounding communities.