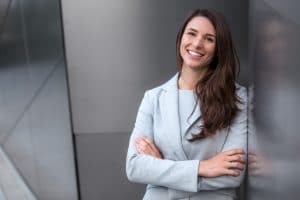 Did you end 2020 with a bright, confident smile, or have you grown unhappy with the appearance of your teeth? Cosmetic problems can gradually form and worsen over time, leaving some people less comfortable with their appearance. Others have held onto concerns about their appearance caused by misshapen, misaligned, or otherwise flawed teeth. If you have new or old concerns about the way you look, consider kicking off the new year with cosmetic dental work! At our Charles City, IA dentist's office, patients who want brighter, more symmetrical, and generally better looking smiles can find that they are just a single conservative procedure away from exciting improvements.
How Do You Feel About Your Smile?
There are several issues that make people lose confidence in their smile over time. Those issues can include one, or several, of the following:
Embarrassment over teeth stains
Problems with dental wear and tear
Visible problems with poor smile alignment
A dental injury that leaves a tooth with a noticeable chip or crack
What you can find is that cosmetic dental work is capable of addressing these and other issues. In fact, you may even learn that one procedure is all it takes to resolve all of your worries about the way that you look!
What Can You Expect From A Cosmetic Procedure?
The outcome of a cosmetic procedure should give you an important confidence boost. The type of changes you see will depend on what you set out to change. If your only concern is with the buildup of particles that have stained your enamel, you can move forward with a professional teeth whitening treatment that makes your smile notably brighter. If you want to do something about issues with the alignment, condition, and color of your teeth, you can see all of these issues improved when you have porcelain veneers put in place.
Scheduling Restorative Work To Improve Your Appearance And Health
Sometimes, it will be necessary to schedule restorative dental work to make desired cosmetic changes. An injured or undersized tooth can be treated with a custom dental crown to change its appearance and also give you more bite support. If your smile is incomplete, treatment can lead to positive oral health changes, better bite function, and cosmetic improvements.
Schedule Cosmetic Work At Our Charles City, IA Dentist's Office!
Your Charles City, IA dentist's office is ready to take care of your smile if you want to start the new year with cosmetic dentistry! If you have questions about a particular procedure, or if you have a more general interest in procedures to change the way you look, let us know. To find out more about our services, or to schedule an appointment, please contact Central Park Dentistry at (641) 228-1115.
Call Central Park Dentistry in Charles City, IA Today!
At Central Park Dentistry, we offer a variety of dental treatments that are customized for each member of your family, including in-house root canal treatment, tooth extractions, dental implant placement, and same-day emergency dental visits, when necessary. To schedule a consultation or dental appointment with Dr. Hansen, call our dental office in Charles City, IA today at (641) 228-1115. We also proudly welcome patients from Osage, New Hampton, Greene, Nashua, Nora Springs, Riceville, and all surrounding communities.