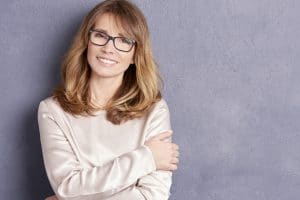 When you look at your smile in the mirror, do you have a hard time ignoring how the color of your teeth have changed? Is this discoloration starting to affect your confidence? Many people start to grow embarrassed about the color of their teeth over time. While this is often because of an accumulation of teeth stains, it can also be linked to troubles with enamel erosion, problems with certain medications you have taken, or other issues that can cause internal discoloration. At our Charles City, IA dentist's office, we are ready to meet with individuals embarrassed by discoloration and recommend treatment. With the right cosmetic dental procedure, we can take care of your concerns and help you smile with more confidence!
How Do You Currently Feel About Your Smile?
Do you feel that your smile is not as is bright as it used to be, or that it could be? Over time, you may notice an unwelcome change in the way you look because your teeth become stained, or because intrinsic discoloration affects the way you look. Rather than continue to lose confidence in your smile, you can talk to your dentist about the benefits of cosmetic services. The right procedure can give you a sustained confidence boost while making you appear younger and healthier!
Scheduling A Teeth Whitening Procedure
For many people, the right solution to smile discoloration will be a professional teeth whitening treatment. Our dental office can recommend treatment that you can take home and use on your own time. The custom kit that you receive when you go to your dentist will include whitening agents that are potent enough to make your enamel many shades brighter, and trays that are custom-made to make the application process easy for you. At the end of your recommended treatment times, you can marvel at a smile that has become more attractive and brighter!
Exploring Your Other Options For Cosmetic Dental Treatment
Because some patients need help with intrinsic discoloration, our practice can recommend more than just whitening treatments for dull or discolored teeth. With the placement of porcelain veneers, we can hide discoloration issues as well as problems with the shape, size, and alignment of your smile. We also have the option of restoring your appearance through tooth bonding services that rely on a special resin material to change the way you look.
Talk To Your Charles City, IA Dentist About How You Can Show Off A Brighter Smile
At our Charles City, IA dentist's office, individuals who are bothered by the color of their teeth can contact us to discuss how the right treatment can help. When you move forward with cosmetic dental work, you can be excited for the positive overall changes to your smile! To find out more, or to discuss other concerns that may affect your smile and oral health, please contact Central Park Dentistry at (641) 228-1115.
Call Central Park Dentistry in Charles City, IA Today!
At Central Park Dentistry, we offer a variety of dental treatments that are customized for each member of your family, including in-house root canal treatment, tooth extractions, dental implant placement, and same-day emergency dental visits, when necessary. To schedule a consultation or dental appointment with Dr. Hansen, call our dental office in Charles City, IA today at (641) 228-1115. We also proudly welcome patients from Osage, New Hampton, Greene, Nashua, Nora Springs, Riceville, and all surrounding communities.