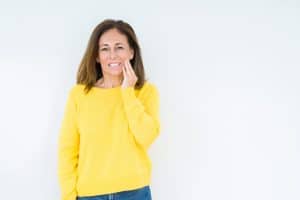 Once a toothache starts to affect you, it can be difficult to ignore the matter. What you should know is that dental pain may be a warning that your tooth is in worse shape than you might suspect. Your pain may be linked to advanced dental decay, which will mean that root canal therapy will have to take place to stop the matter from worsening. Through this procedure, your Charles City, IA dentist is able to address decay or damage within your tooth so that it no longer affects your well-being. Remember that through regular dental exams, we are able to stay informed about the condition of your smile, and step in with restorative dental work before a cavity is serious enough to cause you discomfort.
A Toothache Is Not Something To Ignore
If your tooth is aching, it should not be written off as a "minor" problem, particularly if the pain continues to affect you Any signs of infection should be taken seriously. If the matter is connected to advanced decay or trauma, your tooth's health can actually worsen over time, leading to its loss. The bacteria causing problems within your tooth should also concern you because they can spread beyond the tooth by passing through its roots.
Scheduling Root Canal Therapy
If it is necessary to do so, we will schedule you for treatment via root canal therapy. During your procedure, care will be taken to minimize discomfort as your dentist carefully access your tooth's pulp in order to deal with bacteria and damaged tissues. At the end of treating this portion of your tooth, it will be sealed in order to stop problems from growing more serious. After your care is complete, a custom dental crown will be used to keep your tooth safe. A crown will be permanently placed in order to ensure that you can continue to bite, chew, and speak without issues, and that the tooth's health does not deteriorate again.
Tips For Avoiding Future Dental Problems
While physical injuries can be hard to anticipate, there are measures you can follow in order to protect yourself against future troubles with tooth decay. Make sure you have a consistent routine in place where you thoroughly brush and floss to fight the buildup of plaque and tartar. Make sure that your diet is also a sensible one, and take care to limit sugars. When you have good daily habits that you follow, you can look forward to hearing better news about your smile at future routine dental exams!
Talk To Your Charles City, IA Dentist About Root Canal Therapy
At our Charles City, IA dentist's office, individuals who find themselves with an aching tooth can learn what root canal therapy to can do to stop the problem. To find out more about treatment, please contact Central Park Dentistry at (641) 228-1115.
Call Central Park Dentistry in Charles City, IA Today!
At Central Park Dentistry, we offer a variety of dental treatments that are customized for each member of your family, including in-house root canal treatment, tooth extractions, dental implant placement, and same-day emergency dental visits, when necessary. To schedule a consultation or dental appointment with Dr. Hansen, call our dental office in Charles City, IA today at (641) 228-1115. We also proudly welcome patients from Osage, New Hampton, Greene, Nashua, Nora Springs, Riceville, and all surrounding communities.