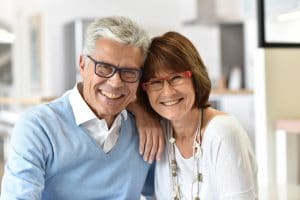 A movement as natural as biting down can become difficult if you have an incomplete smile. After losing just one tooth, it may be difficult for you to evenly apply and release pressure when you bite, which can lead to new oral health concerns. Fortunately, a dental prosthetic can be used to restore your appearance as well as your dental function, and this can help you avoid frustrating complications. At our Charles City, IA dentist's office, we are able to restore a complete smile by placing a custom dental bridge in your gap. The bridge stays in place thanks to a pair of dental crowns that are secured to your teeth. Once in position, you can count on this restoration to absorb pressure as you bite and chew, which means you are less likely to develop painful TMJ issues or overwork remaining teeth.
How Does A Dental Bridge Improve Your Dental Function?
If you are not able to bite down in a way that feels natural to you, it can start to take a toll on your jaw health. An uneven bite movement can strain the joints of your jaw as well as the muscles responsible for movement. In time, the toll of this new stress can lead to aches and pains as well as difficulties with teeth grinding. When you have a bridge in place, you can once again put pressure in an area where there was once a gap, making your natural bite function feel easier to sustain.
Receiving Your Custom Dental Bridge
There is no need to go through oral surgery when placing a dental bridge. The restoration will remain in place because of a pair of dental crowns surrounding the pontic, or replacement tooth, that will rest in the space where tooth loss occurred. Because the right fit is important, your dentist will take care to take measurements used to create a custom restoration. Once it is ready, the crowns will be placed on the teeth at either side of your absence, leaving the bridge secure enough for you to use it when biting and chewing.
What Else Can You Do To Address Tooth Loss?
Implant dentistry has helped many patients regain their complete smiles. With the implants in position, a custom prosthetic can be secured to your jawbone. This arrangement mimics the kind of support teeth receive from their roots, and it is stable enough to make a restoration reliable for biting and chewing. One advantage to this approach is that the implants stimulate and support your jawbone tissues, preventing issues with deterioration that can occur after teeth have been lost.
Talk To Your Charles City, IA Dentist About Restoring Your Smile With A Dental Bridge!
Our Charles City, IA dentist's office is prepared to help patients who are ready to once again show off a complete smile. If you wish to learn more, please contact Central Park Dentistry at (641) 228-1115.
Call Central Park Dentistry in Charles City, IA Today!
At Central Park Dentistry, we offer a variety of dental treatments that are customized for each member of your family, including in-house root canal treatment, tooth extractions, dental implant placement, and same-day emergency dental visits, when necessary. To schedule a consultation or dental appointment with Dr. Hansen, call our dental office in Charles City, IA today at (641) 228-1115. We also proudly welcome patients from Osage, New Hampton, Greene, Nashua, Nora Springs, Riceville, and all surrounding communities.