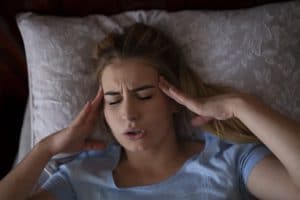 Waking up with a headache, sore teeth, and a tender feeling in your face and jaw joints can make your entire morning less pleasant. These uncomfortable experiences frequently affect those who frequently grind their teeth while they sleep. This issue, known as bruxism, can actually worsen as it progresses. Over time, you may notice that your teeth appear worn down, or that you struggle throughout the day with the effects of TMJ disorder. Some adjustments to your behavior can help you control a tendency to grind while you are sleeping. Changes in your diet, and an improvement in stress management, can assist with this issue. If it is a persistent concern, our Charles City, IA dentist's office is able to provide a custom appliance you can wear to keep your teeth apart while you sleep.
Teeth Grinding At Night Can Lead To Serious Consequences
If you are grinding your teeth at night, they may start to exhibit changes in their appearance due to advanced wear and tear. Your smile may look different because your teeth appear flat or misshapen. You also face the possibility that you will pick up chips and cracks in teeth that hurt your smile and oral health. In some cases, the damage can be serious enough to require restorative dental work! The continued pressure of grinding and clenching also raise your risk for developing TMJ problems, as you are increasing the stress on your jaw joints and muscles.
Habits That Can Increase Your Risk For Teeth Grinding
Alcohol and caffeine use can make you more likely to grind your teeth while you sleep. Cutting them out, particularly at later points in the day, can help. You should also be aware that stress is a trigger for teeth grinding. Take care to manage your feelings of stress during the day, and particularly before going to bed. Catching yourself clenching or grinding during the day, then correcting the habit is beneficial as well. With that said, some people will have a difficult time stopping bruxism without support from their dentist.
Using A Custom Appliance To Keep Your Teeth Safe
With a custom oral appliance, you can keep your teeth safe as you sleep. The night guard provided at our dental practice will gently separate your bottom and top rows of teeth through the night, and also help alleviate tension on the joints that is created by grinding. This can help you stop problems before they have an effect on your appearance, or before they cause more harm to your teeth.
Talk To Your Charles City, IA Dentist About Issues With Nightly Teeth Grinding
Our Charles City, IA dentist's office has experience caring for patients who struggle with bruxism. In addition to helping you protect your teeth at night, we can provide treatment to address any damages that have occurred since the problem started. Find out more by contacting Central Park Dentistry at (641) 228-1115.
Call Central Park Dentistry in Charles City, IA Today!
At Central Park Dentistry, we offer a variety of dental treatments that are customized for each member of your family, including in-house root canal treatment, tooth extractions, dental implant placement, and same-day emergency dental visits, when necessary. To schedule a consultation or dental appointment with Dr. Hansen, call our dental office in Charles City, IA today at (641) 228-1115. We also proudly welcome patients from Osage, New Hampton, Greene, Nashua, Nora Springs, Riceville, and all surrounding communities.