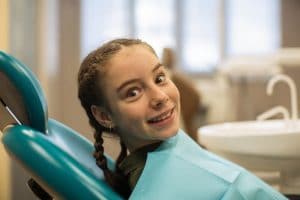 How much effort will it take for you to keep your child free of cavities? Like adults, kids can stay safe against decay with a good oral care routine in place. Brushing and flossing, along with a smart, low-sugar diet, can make people of all ages less likely to need restorative dental work. Of course, this does not mean you have nothing to worry about the moment you implement a dependable daily routine! At every routine pediatric appointment, your Charles City, IA dentist is able to help your child remain out of cavity trouble. When they are old enough, they can enjoy cleanings and evaluations that help adult patients stay healthy. For added support, our practice can also recommend fluoride treatments and dental sealants. These extra steps make it less likely that your youngster will have to come in for work to repair a tooth damaged by decay!
Starting Regular Dental Exams For Kids
At a child's first appointment, your dentist can focus on welcoming them to a new environment and making them feel as comfortable as possible. This supportive approach can make future visits easier for them, and it can help create a healthy starting point for their regular visits. Typically, kids will start to enjoy routine cleanings and exams at around age three (an introductory visit can occur around age two). Once these routine preventive treatments begin, your dentist can help keep their teeth clean, and point out any concerns with the condition of teeth.
How Fluoride And Dental Sealants Protect Kids Against Cavities
There is a learning curve that children must navigate as they start to take on responsibilities regarding their own oral care. With this in mind, you should be aware that they can be more vulnerable to decay. At the appropriate times, we can provide an extra line of defense through special treatments that make young smiles more cavity-resistant. Dental sealants keep bacteria and food particles from accumulating directly on teeth. Fluoride treatments encourage teeth to stay strong by making it easier for them to recover from minor wear and tear. While kids are still learning to take effective care of themselves, extra help can be key in preventing problems with cavities.
Remember That Dental Exams Help Patients Of All Ages
If you want your child's smile to stay healthy, you should be scheduling regular dental exams in addition to caring for their teeth at home. You should also take care to bring yourself to your dentist's office if you want to avoid troubles with tooth decay and gum disease! Our practice helps adults maintain their dental health through preventive services, and we also offer restorative dental procedures that restore damaged teeth without affecting a person's appearance!
Talk To Your Charles City, IA Dentist's Office About Scheduling A Pediatric Dental Visit
At our Charles City, IA dentist's office, we are prepared to see patients of all ages and help them care for their teeth. To find out more about how we can help you take on your oral health concerns, and help your family members, please call Central Park Dentistry at (641) 228-1115.
Call Central Park Dentistry in Charles City, IA Today!
At Central Park Dentistry, we offer a variety of dental treatments that are customized for each member of your family, including in-house root canal treatment, tooth extractions, dental implant placement, and same-day emergency dental visits, when necessary. To schedule a consultation or dental appointment with Dr. Hansen, call our dental office in Charles City, IA today at (641) 228-1115. We also proudly welcome patients from Osage, New Hampton, Greene, Nashua, Nora Springs, Riceville, and all surrounding communities.