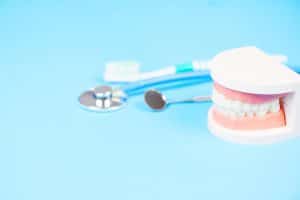 In times of worrying about our physical health and well-being, we can't forget to check in on our dental health. In fact, our oral health issues can aggravate already existing health issues you may have, and can point to and even cause other major problems. In today's blog, your Charles City, IA, dentist will share some advice for keeping your smile healthy to avoid potential issues that could arise because of oral diseases.
Why Should You Focus On Your Oral Health?
Oral illnesses can affect your entire body not only by spreading, but by putting you at a higher risk for other health issues because of how they affect your overall health. Your mouth is one of the easiest entrances for bacteria and viruses, meaning that it is important to be aware of not only what you are putting in your mouth, but what you are allowing to stay in your mouth. For example, when you get an infection in your mouth due to a decaying tooth or gum disease, that infection, if not treated with restorative care, can spread to other parts of your mouth and, eventually, other parts of your body. Additionally, research has shown that the swelling associated with gum disease actually changes the way that blood and oxygen flow to your brain, putting you at a higher risk for stroke. Links to other health issues are still being studied, but based on this information alone, we know that oral health is nothing to mess around with.
How to Keep Your Smile Healthy
Ways to ensure that your smile stays as healthy as possible include:
Wash your hands before touching your mouth or eating and limit touching your mouth with your fingers as much as possible to reduce your chances of contracting any illnesses.
Avoid nervous habits like biting your nails or chewing on pen caps.
Maintain or, if necessary, begin good daily brushing and flossing habits, creating a routine to follow that will thoroughly clean your teeth.
Be sure that you are brushing your teeth for a full two minutes to get rid of as much bacteria and plaque as possible.
Keep your toothbrush stored in an upright position in a cool, dry environment so that the bristles can dry out completely, killing any bacteria and even viruses that would otherwise thrive on the wet brush head.
Continue visiting your dentist for your regular appointments and any time you exhibit any signs, such as pain, sensitivity, bleeding, or swelling, that could point to an oral health issue.
Our Offices Are Clean and Safe
A dentist's office is one of the cleanest places you can possibly be, as we are constantly disinfecting all surfaces with medical grade cleaners and we usually only see a few patients each day. So, if you have any concerns about your oral health, or if it is time for your six month checkup and cleaning, don't wait to schedule a visit by calling Central Park Dentistry in Charles City, IA, today at (641) 228-1115. We also proudly welcome patients from Greene, Nashua, and all surrounding communities.
Call Central Park Dentistry in Charles City, IA Today!
At Central Park Dentistry, we offer a variety of dental treatments that are customized for each member of your family, including in-house root canal treatment, tooth extractions, dental implant placement, and same-day emergency dental visits, when necessary. To schedule a consultation or dental appointment with Dr. Hansen, call our dental office in Charles City, IA today at (641) 228-1115. We also proudly welcome patients from Osage, New Hampton, Greene, Nashua, Nora Springs, Riceville, and all surrounding communities.