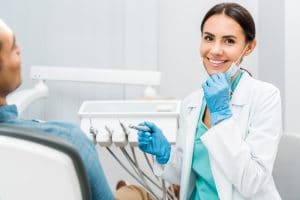 March is National Women's History Month, which makes it a great time to remember the many women who left an impact on the world of dentistry. While there are too many to mention, in today's blog, your Charles City, IA, dentist will share some facts about three female dentists who impacted the course of history for dentistry and paved the way for many to come.
1. Emeline Roberts Jones
Born in 1836 in New Haven, Connecticut, Emeline Roberts Jones married Dr. Daniel Jones, a dentist, when she was 18 years old. She expressed interest in dentistry and was met by resistance from her husband due to the common belief of the time that women's hands were too weak, clumsy, and frail for dentistry. However, she defied her husband by studying in secret and filled and extracted hundreds of teeth by the time she was 19. Because of this, she is credited as the first practicing female dentist as of 1855. Dr. Jones found out, and he eventually made her a partner in his practice when she was 23, where she gained a great reputation and even tended to their patients completely by herself after her husband's death, while also raising two children on her own.
2. Lucy Hobbs Taylor
In 1866, eleven years after Emeline Roberts Jones became the first practicing female dentist, Lucy Hobbs Taylor became the first woman to officially earn a DDS. Lucy was born in 1833 in New York, and orphaned, along with her nine siblings, when she was only 12 years old. She spent a lot of her childhood supporting her family as a seamstress, then teaching for ten years as a young adult before discovering a passion for medicine and dental surgery. She moved to Cincinnati to apply to Eclectic Medical College, but she was denied entry because she was a woman. So, she went directly to a supervisor at the college who tutored her himself. Then, she applied for the Ohio College of Dentistry and was once again denied entry because of her gender. So, she studied with Dr. Jonathan Taft, who was on the faculty there, before opening her own practice in 1861 and finally receiving her DDS from the Ohio College of Dental Surgery in 1866.
3. Ida Gray
Born in March of 1867 in Tennessee, Ida Gray, much like Lucy Hobbs Taylor, grew up as an orphan. However, despite this and attending segregated schools, she overcame these injustices in her childhood and also met Dr. Jonathan Taft while attending Gaines High School in Chicago. From him, she learned enough about dentistry that she was allowed to enter the University of Michigan School of Dentistry in 1887, from which she graduated in 1890, becoming the first African-American female dentist. She became famous for treating both black and white patients, and she even inspired a patient, Olive M. Henderson, to become the second African-American female dentist in Chicago!
Leaving an Impact
All three of these women left a great impact on the field of dentistry and paved the way for all dentists after them. At Central Park Dentistry, we want to leave a lasting impact on your smile by providing you with top-notch care. So, if you are due for your six month checkup and cleaning, schedule a visit by calling Central Park Dentistry in Charles City, IA, today at (641) 228-1115. We also proudly welcome patients from Nora Springs, Riceville, and all surrounding communities.
Call Central Park Dentistry in Charles City, IA Today!
At Central Park Dentistry, we offer a variety of dental treatments that are customized for each member of your family, including in-house root canal treatment, tooth extractions, dental implant placement, and same-day emergency dental visits, when necessary. To schedule a consultation or dental appointment with Dr. Hansen, call our dental office in Charles City, IA today at (641) 228-1115. We also proudly welcome patients from Osage, New Hampton, Greene, Nashua, Nora Springs, Riceville, and all surrounding communities.