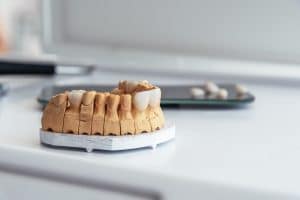 Your Charles City, IA, dentist understands the importance of an attractive smile. To ensure you enjoy a new year with a new smile, we may suggest a unique treatment option. Porcelain veneers address more than just one cosmetic issue. In fact, we can use them to correct a wide array of esthetic issues, including discoloration, minor damage, and even the appearance of misalignment.
How Do You Craft and Place Them?
Each one is custom-made specifically for your smile. To start, we need to remove structure from the surface of the tooth to make room for them to fit comfortably. After we remove a thin layer of outer enamel, we take detailed impressions of the teeth and use the images and impressions to design and craft them from a strong and lifelike material. Not only is porcelain durable, but the material can be shaded to match the color of surrounding teeth as well. Porcelain contains stain-resistant properties and is translucent, like tooth enamel. When you return for your second visit, we will place the restoration with a powerful bonding agent, securing it the same way we do crowns, inlays, and onlays.
What Benefits Do These Cosmetic Restorations Provide?
A veneer can instantly mask permanent teeth stains, which is discoloration that may not respond to common teeth whitening procedures. Our team can also lengthen worn down teeth and repair minor cracks and chips. Treatment can be used to close gaps between the teeth, reshape, malformed teeth, and even correct the appearance of minor misalignment. Once in place, they have the potential to last for decades with proper care and attention. The teeth they're attached to are still susceptible to decay and gum disease, so routine care is needed to keep your teeth strong and healthy. Make time each day to brush and floss thoroughly, and see us every six months for a checkup and cleaning as well.
A Smile Makeover
We may whiten the teeth beforehand to ensure they match your brightest possible smile. We can also combine them with bonding and contouring for a more cost-effective smile makeover. If you have issues with your smile's appearance, please see us soon so we can start the process and help you greet 2020 with a stunning new smile. If you have any questions or concerns, then please let us know and schedule your next cosmetic consultation soon!
Do You Have Questions About Cosmetic Dental Care?
We would love to help you enjoy an attractive new smile before 2020. To learn more about our approach to cosmetic treatment, schedule a visit by calling Central Park Dentistry in Charles City, IA, today at (641) 228-1115. We also proudly welcome patients from Nora Springs, Riceville, and all surrounding communities.
Call Central Park Dentistry in Charles City, IA Today!
At Central Park Dentistry, we offer a variety of dental treatments that are customized for each member of your family, including in-house root canal treatment, tooth extractions, dental implant placement, and same-day emergency dental visits, when necessary. To schedule a consultation or dental appointment with Dr. Hansen, call our dental office in Charles City, IA today at (641) 228-1115. We also proudly welcome patients from Osage, New Hampton, Greene, Nashua, Nora Springs, Riceville, and all surrounding communities.