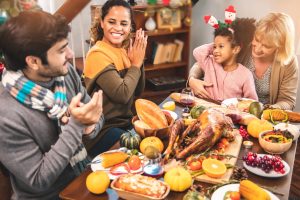 Are you ready for Thanksgiving? With the holiday season finally here, many people will be looking forward to family gatherings and parties. In order to ensure your smile looks its best at these events, you should consider seeing your Charles City, IA, dentist for teeth whitening. Let's look at how our cosmetic treatments remove stains!
The Causes of Your Teeth Stains
There are essentially two types of dental discoloration. The most common is extrinsic, forming on the surface of our teeth. These can be caused by drinks with dark pigments, like coffee, tea, red wine, or soda, or by consuming sugary and starchy foods, which promotes plaque buildup. Smoking and tobacco use, as well as poor oral hygiene, could also lead to surface stains. Intrinsic, also known as permanent teeth stains, form below the enamel and may be caused by an injury to the tooth, fluorosis, or tetracycline exposure at a young age. We will examine your smile and identify the type of discoloration present, choosing the best treatment option.
Our Take Home Whitening Kit
Our at-home teeth whitening kit can address extrinsic stains and minor intrinsic ones. We first take impressions of your smile and create a set of plastic trays. We then send you home with the trays and a prescription bleaching gel. At home, the trays will be filled with gel and worn for between 30 and 45 minutes. The trays help spread the gel evenly and hold it in place as it breaks up the discoloration. The total treatment time will of course depend on the cause and severity of your discoloration, but is usually between a week and ten days. Afterward, you can keep your trays and the leftover gel for touch-ups down the road as discoloration begins to appear again.
Keeping Your Teeth Bright
If you have severe intrinsic staining, we can mask them with bonding and veneers. To help keep your smile bright, be sure you take time to brush and floss daily. Also, see us every six months for a checkup and cleaning so we can monitor your smile and also remove plaque, which helps keep teeth bright. If you have any questions about masking or removing discoloration, then contact our team today to schedule a cosmetic consultation. Let's end 2019 on a brighter note (with a brighter smile)!
Do You Want to Try Cosmetic Treatments?
Our team would like to offer care to help remove stains and address esthetic issues with your smile. To learn more about our cosmetic treatment options, schedule a visit by calling Central Park Dentistry in Charles City, IA, today at (641) 228-1115. We also proudly welcome patients from Greene, Nashua, and all surrounding communities.
Call Central Park Dentistry in Charles City, IA Today!
At Central Park Dentistry, we offer a variety of dental treatments that are customized for each member of your family, including in-house root canal treatment, tooth extractions, dental implant placement, and same-day emergency dental visits, when necessary. To schedule a consultation or dental appointment with Dr. Hansen, call our dental office in Charles City, IA today at (641) 228-1115. We also proudly welcome patients from Osage, New Hampton, Greene, Nashua, Nora Springs, Riceville, and all surrounding communities.