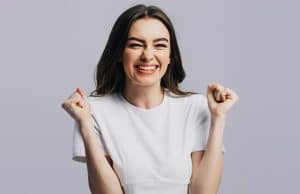 Having a cavity is a big deal. If you don't treat it as soon as possible, it will only get worse, along with the discomfort and risks that it causes. Many people also believe that treating their cavities means receiving a metal filling, which will forever mar their smiles' appearance. Fortunately, that doesn't have to be true! With modern tooth fillings, many of the misconceptions about cavity treatment are no longer factors, and their benefits may be more important for your smile than you realize.
They aren't made of metal
One of the biggest misconceptions about today's tooth fillings is the idea that they have to be made from metal. While that was true not too long ago, today, many fillings are made from more discreet and biocompatible composite resin. The resin, which is created from a mixture of finely ground acrylic and quartz-like particles, is designed to blend in with your healthy, natural tooth structure by mimicking its color and appearance. This means your filling won't be noticeable every time you speak and smile, which is often a source of embarrassment for many patients with metal fillings.
They can prevent more serious decay
The goal of filling a cavity is to stop the decay that's causing it, which means cleaning away the bacteria that infecting your tooth and the tooth structure that's already infected by it. After cleaning and filling your cavity, your restoration should also protect the tooth from further exposure to harmful oral bacteria. Tooth-colored composite resin does an excellent job of this. The resin can be securely bonded to your tooth structure to create a tight, durable seal, preventing bacteria from entering the cavity again.
They can address more than just cavities
The composite resin used to create tooth-colored fillings is a highly versatile dental material. It's ability to mimic your healthy, natural tooth structure, combined with its biocompatibility and ability to bond to your tooth structure, make it an optimal solution for several other concerns, as well. For example, when placed on the outer structure of your tooth, it can be utilized as a cosmetic solution to improving a tooth's overall appearance (a procedure known as cosmetic tooth bonding).
Learn more about modern tooth fillings
The materials and techniques used for modern tooth-colored fillings offer a wealth of benefits for your tooth and oral health. To learn more, schedule a visit by calling Central Park Dentistry in Charles City, IA, today at (641) 228-1115. We also proudly welcome patients from Osage, New Hampton, Greene, and all surrounding communities.
Call Central Park Dentistry in Charles City, IA Today!
At Central Park Dentistry, we offer a variety of dental treatments that are customized for each member of your family, including in-house root canal treatment, tooth extractions, dental implant placement, and same-day emergency dental visits, when necessary. To schedule a consultation or dental appointment with Dr. Hansen, call our dental office in Charles City, IA today at (641) 228-1115. We also proudly welcome patients from Osage, New Hampton, Greene, Nashua, Nora Springs, Riceville, and all surrounding communities.