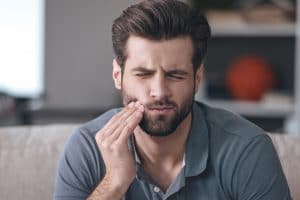 We consider a dental emergency any damage to your teeth or gums, provided the injury isn't life threatening (at which point you should call 911 or proceed to the nearest emergency room). When you contact your Charles City, IA, dentist for emergency care, we will often see you the same day to treat the issue. In today's blog, we're looking at different ways our patients can respond to an emergency to limit discomfort before they see us!
Chipped and Knocked-Out Teeth
If you chip a tooth, then try to find any pieces of your tooth and bring them with you to the office. If this proves impossible, don't worry, we can still repair your tooth with bonding or a restoration. Take a pain reliever to ease your discomfort and consider using a piece of cloth or gauze to control any bleeding. Holding a cold compress against the side of the face can reduce swelling.
If you knock a tooth out completely, don't pick the tooth up by the root, only touch the crown, or visible portion. Rinse the tooth under running water to remove dirt, but try to keep any tissue in place. Put the tooth back into the socket and bite down gently to hold in place. If this isn't possible, place the tooth in a glass of milk or salt water, and bring it with you to the office right away! Again, cloth or gauze can help with bleeding and a cold compress reduces the severity of swelling.
Loose and Missing Restorations
Should a crown or filling come loose or become lost, let us know right away. Be sure to avoid sugary or acidic foods and drinks, as this could cause serious discomfort for the exposed tooth. If your the restoration falls out, bring it to the office with you. We can repair or replace your crowns or fillings, protecting your exposed teeth from the risk of cavities or infections.
Aches and Objects Stuck Between Teeth
A sudden toothache could mean the onset of tooth decay or an infection, so be sure to schedule an appointment so we can examine, and if necessary, restore the tooth. If you have something stuck between your teeth and floss cannot remove it, let us know. Never use anything other than floss to try and dislodge it, as this could inadvertently damage your gum tissue.
Central Park Dentistry Addresses Dental Emergencies
At Central Park Dentistry, we're ready to repair your damaged teeth and restore the health and beauty of your smile. To learn more about our approach to emergency dentistry, then schedule a consultation with Dr. Hansen by calling our dental office in Charles City, IA at (641) 228-1115. We proudly welcome patients from Osage, New Hampton, Greene, and all surrounding communities.
Call Central Park Dentistry in Charles City, IA Today!
At Central Park Dentistry, we offer a variety of dental treatments that are customized for each member of your family, including in-house root canal treatment, tooth extractions, dental implant placement, and same-day emergency dental visits, when necessary. To schedule a consultation or dental appointment with Dr. Hansen, call our dental office in Charles City, IA today at (641) 228-1115. We also proudly welcome patients from Osage, New Hampton, Greene, Nashua, Nora Springs, Riceville, and all surrounding communities.