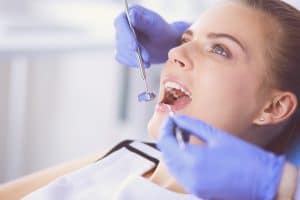 What happens if your tooth develops a cavity so severe a filling may not be enough? What if your tooth becomes infected or abscessed? For these issues, we may restore the health and function of the smile using root canal therapy. A comfortable restorative treatment, root canals help stop the progression of decay and infection, safeguarding the overall health of smiles in Charles City, IA.
The Dangers of Dental Infection
An infected tooth develops when bacteria reach the inner pulp. Your pulp sits at the center of your tooth and in the roots, controlling the flow of blood and nutrients to and from the tooth and keeping your smile healthy. However, the presence of bacteria means the tissue will become infected. In the short term, this means pain when eating, swelling a near the infected tooth, discharge from the tooth, fever, headaches, and toothaches. In the long term, the pulp could die, which enables infection to reach surrounding teeth and cause further pain and discomfort. The tooth may become lost or need to be removed to preserve the smile's health. An infected tooth occurs when a cavity remains untreated, growing and spreading throughout the tooth, or if the tooth itself becomes chipped or cracked.
The Root Canal Procedure
In order to stop the progression of the infection and protect the tooth, we may perform a root canal procedure. The procedure involves opening the tooth to remove the infected tissue from within. Afterward, we clean the inside of the tooth and place a special restorative filling. After we cure this material, we will cap the tooth with a custom-made crown, one usually made from lifelike materials that blend with the smile, such as ceramic. In one visit, we stop the infection and return the tooth to optimal function and appearance, protecting surrounding teeth and the jawbone from the spread of infection, an stopping the pain in your smile.
Ensuring Your Comfort
We want to make sure our patients feel comfortable and relaxed during their visit. In addition to anesthesia, we may also administer dental sedation. Nitrous oxide, also known as laughing gas, helps patients enter a calm and relaxed state, with little to no memory of the procedure. The effects can be strengthened or lessened throughout the procedure and wear off immediately. Which means you can return to work or school and even drive yourself home.
Central Park Dentistry Offers Endodontic Care
At Central Park Dentistry, we have a safe and comfortable solution to tooth decay and infection with root canal therapy. To learn more about our endodontic treatment options, then schedule a consultation with Dr. Hansen by calling our dental office in Charles City, IA at (641) 228-1115. We proudly welcome patients from Osage, New Hampton, Greene, and all surrounding communities.
Call Central Park Dentistry in Charles City, IA Today!
At Central Park Dentistry, we offer a variety of dental treatments that are customized for each member of your family, including in-house root canal treatment, tooth extractions, dental implant placement, and same-day emergency dental visits, when necessary. To schedule a consultation or dental appointment with Dr. Hansen, call our dental office in Charles City, IA today at (641) 228-1115. We also proudly welcome patients from Osage, New Hampton, Greene, Nashua, Nora Springs, Riceville, and all surrounding communities.