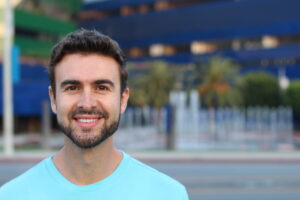 When you have a chipped or cracked tooth, you can have little doubt that its visibility is hurting the quality of your smile. What you should know is that this kind of issue is treatable. For many people, that treatment can take surprisingly little time and overall work on their tooth structure! At our Charles City, IA dentist's office, we provide cosmetic services that are capable of taking on different matters. One of those matters has to do with physical harm to your enamel. A conservative cosmetic procedure can hide any chips, cracks, or other flaws that have made you less confident in how you look!
Are You Embarrassed By Noticeable Dental Damage?
Visible damage to your enamel can be a frustrating problem to have. Fortunately, it is something that can be fixed. Until you do take the matter on, that noticeable chip or crack in a tooth can draw unwanted attention, and it can have a disruptive effect that robs your smile of a symmetrical appearance. After an evaluation, we can see what kind of service you should consider. What you should know is that if the damage is more severe, it can be necessary to take it on by placing a dental crown.
Planning Treatment To Restore Your Smile
Both porcelain veneers and dental bonding services are capable of hiding chips and cracks in teeth. Veneers are thin shells that we place over the front surfaces of teeth. In doing so, we can provide the kind of coverage that makes your smile more attractive without disrupting its natural look. We can also hide damages by performing dental bonding work to cover up damages and other flaws. This involves the careful application of a composite resin material to correct any noticeable issues. For chips, we can also look at contouring the tooth to restore its shape and overall look.
What To Expect When You Need A Crown To Protect An Injured Tooth
If a tooth's health is put in jeopardy by physical damage, we can recommend that it be capped with a custom dental crown. This work can still restore your appearance, as treatment with lifelike crowns is available. What it will also do is provide functional support so that you do not have to worry about the tooth breaking any further.
Talk To Your Charles City, IA Dentist About Treatment For Chipped And Cracked Teeth
By taking care of chipped and cracked teeth that look unsightly, we can see to it that your smile has been fully restored. We can also perform a careful review to see if you need more than just cosmetic work to address dental damage. If you would like to find out more, please contact Central Park Dentistry in Charles City, IA today at (641) 228-1115.
Call Central Park Dentistry in Charles City, IA Today!
At Central Park Dentistry, we offer a variety of dental treatments that are customized for each member of your family, including in-house root canal treatment, tooth extractions, dental implant placement, and same-day emergency dental visits, when necessary. To schedule a consultation or dental appointment with Dr. Hansen, call our dental office in Charles City, IA today at (641) 228-1115. We also proudly welcome patients from Osage, New Hampton, Greene, Nashua, Nora Springs, Riceville, and all surrounding communities.