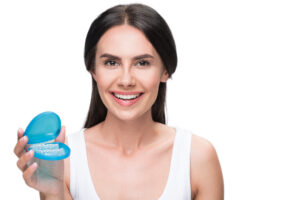 There are different reasons why people have a difficult time feeling confident in the way they look when they smile. One is that they can feel embarrassment over the way their teeth are aligned. A concern over malocclusion can be difficult to shake, but for people concerned about wearing metal braces, it can also be hard to bring up with a dentist. You should know that your Charles City, IA dental practice can offer a more conservative, patient-friendly approach to fixing this issue. By providing a personalized Invisalign treatment, we can help you correct problems with spacing discreetly. This can make you more comfortable during the adjustment process itself, and it can still deliver the right results to make you more confident in the way you look!
Is Poor Teeth Spacing A Problem For Your Appearance?
You may have a harder time showing off a confident smile when you are preoccupied with concerns about the way your teeth are aligned. Whether you are bothered by gaps between teeth or overlaps that make crowding a problem, it can feel as though these signs of poor alignment are uncomfortably prominent. You can also have problems with general asymmetry, which can make your smile appear awkward. For many people who have this problem, a solution can be surprisingly easy to fit into your daily life. With Invisalign aligners, you can take on spacing issues discreetly and with appliances you can easily remove.
Using Invisalign To Take Care Of Gaps And Overlaps
A set of personalized Invisalign aligners will help you take on problems with gaps and overlaps between teeth. The appliances that you receive will be carefully designed after we take measurements of your teeth and oral structures. This can ensure that they are both the right fit for you and able to make the right adjustments to your teeth. As you depend on each one, you can see progressive changes that make your smile more symmetrical and attractive. While you should take care to keep them in place throughout each day, you are free to remove them when you need to eat or clean your teeth.
Find Out What Else Cosmetic Treatment Can Do For You
Cosmetic dentistry can provide many different solutions to problems with your appearance. For some patients, we can actually recommend another service, such as the placement of porcelain veneers, to hide alignment flaws. The advantage to this is that you can see results sooner, as these restorations are ready in just two appointments!
Talk To Your Charles City, IA Dentist About Transforming Your Smile
Through corrective work with Invisalign aligners, you can put smile flaws behind you and enjoy renewed confidence in how you look! To find out more about this and other services we provide, contact Central Park Dentistry in Charles City, IA today at (641) 228-1115.
Call Central Park Dentistry in Charles City, IA Today!
At Central Park Dentistry, we offer a variety of dental treatments that are customized for each member of your family, including in-house root canal treatment, tooth extractions, dental implant placement, and same-day emergency dental visits, when necessary. To schedule a consultation or dental appointment with Dr. Hansen, call our dental office in Charles City, IA today at (641) 228-1115. We also proudly welcome patients from Osage, New Hampton, Greene, Nashua, Nora Springs, Riceville, and all surrounding communities.