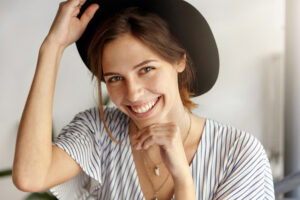 The work that goes into improving your smile can take less time, and make fewer changes, than you suspect. At our Charles City, IA dental practice, you can look into tooth bonding and contouring treatment to take on different issues like discoloration, dental damage, and naturally occurring problems that negatively affect how you look when you smile and speak. This approach can take as little as just one appointment to complete, and it can deliver changes without the need to place permanent restorations. We can meet with you to review how this service can help you, and we can discuss other cosmetic procedures that we provide.
Are You Interested In What Cosmetic Care Can Do For Your Smile?
Cosmetic dentistry takes on many different issues that people have with how they look. For people interested in hiding chips and cracks in teeth, those who want to do something about dental discoloration, and individuals interested in correcting natural problems with teeth that are misshapen or the wrong size, the right procedure can have significant benefits. You can be surprised to find that with just one procedure, and as little as one appointment, we can help you take on several issues with how you look. This is because a service like tooth bonding and contouring can hide many flaws at one time while only making conservative changes to your tooth structure.
Planning A Tooth Bonding And Contouring Procedure
Tooth bonding and contouring work will help reshape and resize teeth, hide blemishes, and cover structural damage. The process relies on two approaches that we can fit into just one visit (depending on the number of teeth you wish to restore). The contouring process improves the look of teeth that are the wrong size or wrong shape by carefully removing excess enamel. The dental bonding process is capable of correcting issues with shape and size, and it can also cover chips and cracks, and it can even be relied on to hide physical damages.
What Else Can You Look Into If You Want To Improve Your Appearance?
There are a number of cosmetic dental services available to our patients. Those who want another approach that can hide several problems at once can look into treatment with porcelain veneers. These restorations can make more preparatory work necessary than treatment via tooth bonding and contouring. However, you can have an easier time preserving your results thanks to the durability of these thin porcelain shells. We also provide teeth whitening services to those who are focused on brightening a smile dulled by stains.
Talk To Your Charles City, IA Dentist About Tooth Bonding And Contouring
By taking on smile flaws through tooth bonding and contouring, you can see remarkable changes in how you look in less time, and with less effort, than you might think possible! If you would like to find out more, contact Central Park Dentistry in Charles City, IA today at (641) 228-1115.
Call Central Park Dentistry in Charles City, IA Today!
At Central Park Dentistry, we offer a variety of dental treatments that are customized for each member of your family, including in-house root canal treatment, tooth extractions, dental implant placement, and same-day emergency dental visits, when necessary. To schedule a consultation or dental appointment with Dr. Hansen, call our dental office in Charles City, IA today at (641) 228-1115. We also proudly welcome patients from Osage, New Hampton, Greene, Nashua, Nora Springs, Riceville, and all surrounding communities.