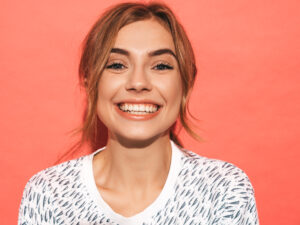 Is there anything you can do to change your smile in a significant and lasting way? How much good does cosmetic dentistry really do when it comes to making improvements on the color of your enamel, or for the shape and size of teeth that currently appear out of place. At our Charles City, IA dentist's office, we can recommend that you receive porcelain veneers to see lasting benefits from cosmetic dental work. With these thin, durable restorations, we have the ability to hide chips and cracks, cover spacing flaws, take on discoloration, and resolve more troubles with your appearance!
How Do You Currently Feel About Your Smile?
Whether you have a few minor concerns about your appearance or potentially significant problems with how you look, a discussion regarding cosmetic dentistry can be beneficial. Through that discussion, you can find out how different services can help you. One procedure we can recommend involves the placement of porcelain veneers on teeth that look awkward, unattractive, or just out of place. These shells are made to be thin enough to minimize changes to your tooth structure, but they provide enough durability to provide long-term benefits for your appearance!
Planning Cosmetic Work With Porcelain Veneers
Porcelain veneers are thin, personalized restorations that are capable of making improvements to your smile while only making minimal alterations to your enamel. The process requires two appointments. At that first visit, we will prepare your teeth to receive your restorations, and we will take the measurements that are needed to see what shape and size your veneers should be. When you come back, the veneers we prepare for you will be put in position after confirming they are the right shape and size.
Reviewing The Other Treatment Options That Are Available To You
Should you explore your different options for cosmetic dental work? You have several available to you—the right one can give you the outcome you would like to see while making you feel at ease with the procedure itself. For people who want to minimize changes to their enamel but still want to change tooth shape and size, we can recommend dental bonding and contouring work. Through bonding and contouring services, we are able to hide flaws without permanent restorations, and often in as little as one appointment!
Talk To Your Charles City, IA Dentist About Treatment With Porcelain Veneers!
Through the placement of porcelain veneers, we can take on problems with the way you look and give you a welcome confidence boost whenever you show off your smile! If you are interested in learning more about this service and its benefits, or if there is another procedure you would like to discuss, please contact Central Park Dentistry in Charles City, IA today at (641) 228-1115.
Call Central Park Dentistry in Charles City, IA Today!
At Central Park Dentistry, we offer a variety of dental treatments that are customized for each member of your family, including in-house root canal treatment, tooth extractions, dental implant placement, and same-day emergency dental visits, when necessary. To schedule a consultation or dental appointment with Dr. Hansen, call our dental office in Charles City, IA today at (641) 228-1115. We also proudly welcome patients from Osage, New Hampton, Greene, Nashua, Nora Springs, Riceville, and all surrounding communities.