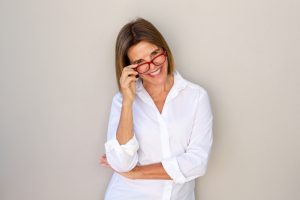 If you put off treatment to replace lost teeth, you can experience complications that hurt your oral health and make you increasingly self-conscious about your smile. A gap actually makes you more likely to lose neighboring teeth, which means this is a problem that can worsen in time. You also have to worry about problems with your bite that lead to diet limitations, as well as changes in your jaw movement that lead to TMJ disorder. Our Charles City, IA dentist's office is prepared to help you move on from problems created by tooth loss. Through treatment, we can help you show off a full smile and make valuable improvements to your bite!

The Trouble With Leaving Your Smile Incomplete
If you never look into restorative dental work after tooth loss, you can find that your incomplete smile creates worsening issues for you. These issues include problems with your bite function. People who lack bite power or experience discomfort because of tooth loss can have a harder time eating a nutrient-rich diet. They can also struggle with persistent jaw pain and stiffness. Over time, you also have to worry about the cosmetic and oral health impact of jawbone deterioration, something that occurs when you have lost teeth roots.
Using Dental Implants To Hold Replacement Teeth
With dental implants, you can count on more support from replacement teeth that are put in place to make your smile complete again. Your implants will act as artificial roots for these restorations. They are set directly in your jawbone, where they can hold crowns and other prostheses in position, and even absorb pressure created when you bite and chew. When called for, we can discuss restoration plans that call for several implants to hold a larger appliance, such as a dental bridge or denture.
We Can Also Help When Teeth Need To Be Extracted
Although it is a procedure we try to avoid, we can remove teeth when this step is needed to help you regain your oral health. After an evaluation, we can determine if tooth extraction is necessary. If it is, we can make plans to both safely remove teeth that cannot be saved, and discuss plans to give you back your full smile through prosthetic treatment. You can reduce your risk for problems that call for these steps by consistently attending dental checkups, where your dentist can identify problems before they progress to the point of causing serious complications.
Talk To Your Charles City, IA Dentist About Treatment After Tooth Loss
Tooth loss can be an embarrassing problem, and one that creates long-term problems for your dental health and bite function. At our Charles City, IA dentist's office, we can help you take this problem on so that it no longer leaves you self-conscious, or unable to enjoy a varied, nutrient-rich diet. For more information, please contact Central Park Dentistry at (641) 228-1115.
Call Central Park Dentistry in Charles City, IA Today!
At Central Park Dentistry, we offer a variety of dental treatments that are customized for each member of your family, including in-house root canal treatment, tooth extractions, dental implant placement, and same-day emergency dental visits, when necessary. To schedule a consultation or dental appointment with Dr. Hansen, call our dental office in Charles City, IA today at (641) 228-1115. We also proudly welcome patients from Osage, New Hampton, Greene, Nashua, Nora Springs, Riceville, and all surrounding communities.