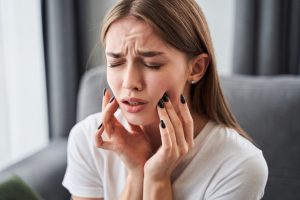 How worried should you be if you have tooth pain without an obvious cause? That lingering discomfort is not something to shrug off, as it can point to a problem with an advanced cavity that needs your dentist's attention! Without timely care, a severe cavity can cause bacteria to spread beyond your tooth, and may make an extraction necessary. At our Charles City, IA dentist's office, patients who have issues with active tooth pain can come to us to discuss treatment. Root canal therapy can remove bacteria and damaged tissues from within your pulp to stop a cavity from growing worse.
Is Tooth Pain Always A Sign Of A Cavity?
It can be hard to ignore tooth pain, particularly when it is severe, or when it persists for a worryingly long time. A short period of discomfort can be caused by something other than poor oral health. For example, you may have some dental pain or sensitivity when you have a sinus infection. However, if the pain is serious, or when it does not go away after a day or so, you should talk to your dentist. By doing so, you can find out if restorative dental work is necessary.
Arranging Root Canal Therapy
Root canal therapy is performed to restore a tooth affected by internal problems. Bacteria can infiltrate your tooth when a cavity exposes your pulp, the central chamber where living tissues are housed. Internal issues can also be created by dental injuries. The procedure takes care of bacteria and infected tissues within your pulp, which can stop pain and also prevent the further travels of harmful microbes. If this work is not done in time, a tooth's health can deteriorate to the point where an extraction must take place.
Preventing Future Cavities
In addition to providing restorative dental work to address active problems, our practice is here to help you avoid difficulties that might form in the future. Preventive dental exams offer important feedback, and they also give you an added form of support through dental cleanings. When you regularly attend these appointments, you can receive early warnings about any signs of decay that will call for treatment. While a small cavity will require a dental filling, it is something we can address before you need a root canal performed.
Talk To Your Charles City, IA Dentist About Your Tooth Pain
Tooth pain is not a matter that you should take lightly. If discomfort does not stop, or if you experience worsening pain over time, you should schedule treatment before the matter grows so serious that you need to have your tooth removed! If you would like to set an appointment, or if you have questions, please contact Central Park Dentistry at (641) 228-1115.
Call Central Park Dentistry in Charles City, IA Today!
At Central Park Dentistry, we offer a variety of dental treatments that are customized for each member of your family, including in-house root canal treatment, tooth extractions, dental implant placement, and same-day emergency dental visits, when necessary. To schedule a consultation or dental appointment with Dr. Hansen, call our dental office in Charles City, IA today at (641) 228-1115. We also proudly welcome patients from Osage, New Hampton, Greene, Nashua, Nora Springs, Riceville, and all surrounding communities.