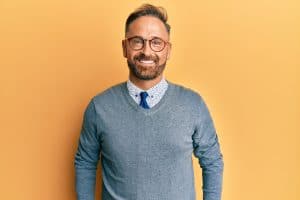 Is one minor dental flaw – or several – keeping you from smiling with true confidence? People often project their confidence with their smile, which can be beneficial in both social and professional situations. Rather than let your doubts about your appearance hold you back, talk to your Charles City, IA dentist about cosmetic dentistry! Many people who want to change the way they look can have their desired results after just one procedure to cap flawed teeth with porcelain veneers. Veneers  are carefully designed to look natural when in place, and they are able to cover a variety of issues that make people feel self-conscious. After this one procedure, you can delight yourself and impress others by showing off a truly confident smile!
Do You Currently Have Confidence In Your Smile?
Good oral health is important, but your confidence can be impacted by more than just the absence of dental problems. If you feel that your teeth look dull, worn, misshapen, or out of alignment, you can have a difficult time feeling comfortable with the way you look. That self-conscious feeling can interfere with your ability to look confident in work situations as well as in social outings. Fortunately, these flaws are often treatable with as little as one cosmetic dental procedure. For many people, veneers are all that it will take to give them a big and welcome confidence boost!
Porcelain Veneers Make Significant Improvements Possible
You may be surprised to hear that one procedure might be all you require to address all of your dental flaws. Veneers are thin shells that are placed on the fronts of your teeth. They are carefully made so that they cover the fronts of teeth while preserving their natural appearance. To ensure that they have space, your dentist can perform minor preparatory work before you receive them. After they are bonded to your enamel, they can make your smile appear bright, symmetrical, and free of any visible flaws that currently upset you.
Other Options For Cosmetic Treatment That Can Interest You
Through tooth bonding and contouring work, your dentist may be able to reshape and resize flawed teeth so that they no longer look unattractive. While veneers offer a more durable solution for cosmetic problems, a tooth bonding and contouring treatment can be finished in less time. Another service we offer is treatment with Invisalign, which moves teeth that are out of position to improve your appearance and oral health.
Talk To Your Charles City, IA Dentist About Porcelain Veneers
Your Charles City, IA dentist's office is ready to speak with you if you want to make your smile more confident! To find out more about our practice and services, or to discuss specific issues you want to address, contact Central Park Dentistry at (641) 228-1115.
Call Central Park Dentistry in Charles City, IA Today!
At Central Park Dentistry, we offer a variety of dental treatments that are customized for each member of your family, including in-house root canal treatment, tooth extractions, dental implant placement, and same-day emergency dental visits, when necessary. To schedule a consultation or dental appointment with Dr. Hansen, call our dental office in Charles City, IA today at (641) 228-1115. We also proudly welcome patients from Osage, New Hampton, Greene, Nashua, Nora Springs, Riceville, and all surrounding communities.