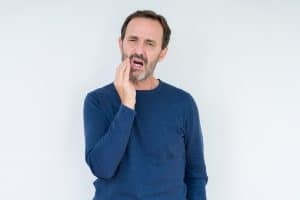 A concern that sends you to the dentist's office for emergency care can require restorative dental work to protect the tooth causing you trouble. An injured or cavity-affected tooth can be restored with a custom dental crown, which will completely cover a tooth above the gum line and take on bite pressure on its behalf. Our Charles City, IA dentist's office is ready to help when patients need treatment on short notice. When your urgent treatment calls for the placement of a crown, we can start the process of restoring your tooth and address both its function and appearance. If necessary, we can perform root canal therapy to address internal problems.
How Worried Should You Be If Your Tooth Is Aching Or Injured?
If your tooth is in significant pain, or if it is physically damaged, you should treat the matter as urgent. Without timely treatment, its condition can worsen, which makes losing the tooth more likely. Because of this, we do make emergency services available to our patients. At an appointment, we can find the most conservative treatment approach to save it from being lost.
Scheduling Emergency Treatment For Your Smile
After contacting our practice, we can make sure we are ready to help you when you arrive. Your dentist will have to check on the tooth to see what shape it is in, and what kind of care might be needed. When internal problems are identified, it will be necessary to perform root canal therapy. Physical damage will be permanent, just as the damage from decay causes lasting damage, which is why a durable restoration is used for support. When a dental crown is placed on your tooth, it will provide long-term protection and enable you to bite and chew without difficulties.
What To Expect From A Dental Crown
A dental crown protects a vulnerable tooth, and it provides support so that you can bite and chew without problems. Being able to bite with confidence is important, because a change in the way you move your jaw to bite and chew can cause chronic pain, joint stiffness, and troubles with teeth grinding. For teeth that are visible when you smile, we can recommend the placement of a restoration that matches your tooth structure and preserves the way you look!
Our Charles City, IA Dentist's Office Is Ready To Address A Dental Emergency
Your Charles City, IA dentist's office is ready to help during a dental emergency. One thing we can do for you is provide a custom dental crown that protects your tooth and also preserves your smile. To find out more about our practice and the different services that we offer, please contact Central Park Dentistry at (641) 228-1115.
Call Central Park Dentistry in Charles City, IA Today!
At Central Park Dentistry, we offer a variety of dental treatments that are customized for each member of your family, including in-house root canal treatment, tooth extractions, dental implant placement, and same-day emergency dental visits, when necessary. To schedule a consultation or dental appointment with Dr. Hansen, call our dental office in Charles City, IA today at (641) 228-1115. We also proudly welcome patients from Osage, New Hampton, Greene, Nashua, Nora Springs, Riceville, and all surrounding communities.