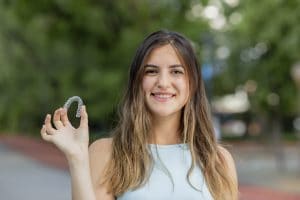 While you can protect yourself against tooth decay, gum disease, and teeth stains with the right daily behaviors, naturally occurring problems with the alignment of your smile can still fluster you. In addition to creating problems for the way you look, malocclusion can interfere with your bite function, and may make it difficult for you to clean your smile effectively. At our Charles City, IA dentist's office, individuals bothered by poor smile alignment can learn about the benefits of treatment with Invisalign. These clear braces are an alternative to traditional bracket-and-wire appliances that most people are familiar with. By using Invisalign to correct alignment flaws, you can correct problems with gaps and overlaps discreetly, leading to lasting smile changes you are excited to show off!
Gaps And Overlaps Between Teeth Make Many People Self-Conscious
While they affect many people in varying ways, problems with smile gaps and overlaps can be frustrating. These alignment flaws can throw off your facial symmetry, cause conspicuous problems with your appearance, and generally make you uncomfortable with the way you look when smiling. In addition to affecting your confidence, alignment flaws can negatively impact your oral health in ways that should concern you. These flaws can make it difficult to maintain a balanced, even bite, and it can even make certain spaces between teeth hard to clean!
Starting Treatment With Invisalign Aligners
By using Invisalign aligners to straighten your teeth, you can see the benefits of orthodontic treatment without spending a period of time with metal braces. What you will rely on instead is a series of clear appliances that make gradual adjustments to your teeth. These aligners can be removed whenever they seem to be in your way – for instance, you can take them out when you eat, or before brushing and flossing. When you leave them on, you can be relieved to note that they are difficult for others to see.
What Else Can I Do To Fix My Smile Flaws?
In some cases, it is not necessary to have orthodontic work to cover a gap or overlap between teeth. Other cosmetic dental procedures may provide solutions that take less time and still produce exciting results. You can have porcelain veneers put in place on teeth that look awkward. You can also rely on these shells to hide any other flaws with the color, shape, or size of teeth being restored. It may be possible to close a gap between teeth by performing a dental bonding procedure on a smaller tooth.
Talk To Your Charles City, IA Dentist About Invisalign!
At our Charles City, IA dentist's office, individuals who are bothered by the alignment of their smile can learn about the benefits of Invisalign treatment! To find out more about this treatment, contact Central Park Dentistry at (641) 228-1115.
Call Central Park Dentistry in Charles City, IA Today!
At Central Park Dentistry, we offer a variety of dental treatments that are customized for each member of your family, including in-house root canal treatment, tooth extractions, dental implant placement, and same-day emergency dental visits, when necessary. To schedule a consultation or dental appointment with Dr. Hansen, call our dental office in Charles City, IA today at (641) 228-1115. We also proudly welcome patients from Osage, New Hampton, Greene, Nashua, Nora Springs, Riceville, and all surrounding communities.