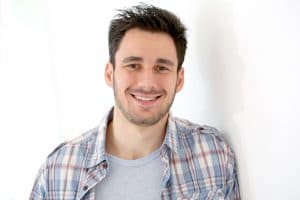 When a cavity treatment occurs, what will it take to make sure your tooth is fully recovered and protected from future problems? The first step in your care will be to remove decayed tissues and rid the area of bacteria. Once this is done, the spread of decay can stop, but work will need to take place to restore the health of the tooth. After all, even a small cavity is able to do permanent damage to your enamel. Our Charles City, IA dentist's office is prepared to restore your tooth by providing a custom, lifelike dental filling. With a dental filling in place, the site of your cavity will be restored, and you can remain safe from a potential future infection.
Cavities Do Permanent Damage To Teeth
Once a cavity forms, permanent damage will affect your tooth. The time it takes you to schedule and undergo treatment will impact just how much harm ultimately occurs. Even a small amount of harm is a point of concern. The damage will be permanent, as your enamel is not able to simply heal itself in time. To protect you from a future infection or physical harm, a restoration is placed at the site of decay to protect against further troubles.
What To Expect From Your Restorative Treatment
Before a tooth can be restored, a cavity needs to be completely removed. This means that the removal of damaged tissues must take place, and also that the bacteria harming the tooth must be cleaned. When this is done, we can move forward with your treatment. The dental filling we can provide you will be made from composite resin. This material is able to bond directly to your tooth, and it can imitate your healthy enamel. The bonding process prevents any openings from forming between your tooth and your restoration, openings that could allow bacteria in to create new problems for your dental health.
Are Dental Fillings Always Used During Cavity Treatments?
It is not always possible to restore teeth with dental fillings. If the damage that occurs is too severe, it will be necessary to cap the tooth with a crown instead. Custom dental crowns are made to be strong enough to support your bite function and keep a tooth safe against harm. If necessary, a root canal treatment may need to occur before you can receive your dental crown. This procedure is performed whenever there is a concern about an internal tooth infection.
Talk To Your Charles City, IA Dentist About Scheduling Cavity Treatment
Your Charles City, IA dentist's office is prepared to help you if you experience a problem with tooth decay. Upon examining the tooth, we can determine what the appropriate treatment is before providing lasting care to guard the tooth, and preserve your smile! To find out more about our services, please call Central Park Dentistry at (641) 228-1115.
Call Central Park Dentistry in Charles City, IA Today!
At Central Park Dentistry, we offer a variety of dental treatments that are customized for each member of your family, including in-house root canal treatment, tooth extractions, dental implant placement, and same-day emergency dental visits, when necessary. To schedule a consultation or dental appointment with Dr. Hansen, call our dental office in Charles City, IA today at (641) 228-1115. We also proudly welcome patients from Osage, New Hampton, Greene, Nashua, Nora Springs, Riceville, and all surrounding communities.