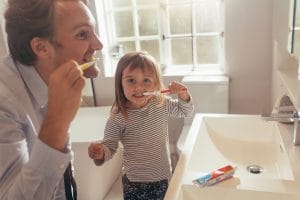 Good oral health is one of many things parents understandably want for their kids, but it is one that can have a significant effect on them over time. When kids pick up effective habits at an early age, and enjoy access to pediatric dental care, they can develop more comfort with good oral hygiene that lasts well into adulthood. This can mean avoiding dental problems, and it can mean growing up with a more attractive and healthy smile. Our Charles City, IA dentist's office is proud to provide pediatric dental services in addition to offering important oral health care for adults. While these checkups are certainly important for kids, the guidance about oral care they receive at home is also meaningful.
Check In On Them While They Care For Their Teeth
Once your kids start brushing and flossing their own teeth, it may be a good idea to check in on them from time to time. Without meaning to, children can fall into poor habits because they do not understand the importance of brushing, or because they are not yet clear on what a "good" routine should look like. Dropping in to check their routine, or making brushing and flossing a family activity, can give you the chance to examine their form while also modeling your own good habits.
Stick To Healthy Snacks
A good diet will be important to oral health at any age. While enamel is remarkably strong even at an early age, kids can put themselves at greater risk for problems because they have a hard time resisting unhealthy foods. Make sure that in addition to providing healthy meals, you also keep your kitchen stocked with healthier snacks. You may be surprised at just how much sugar kids can consume from what they are eating between meals! Smarter choices can provide less food for oral bacteria, which means that kids are less likely to need a dental filling or other restoration at a future appointment.
Make Sure They Know Why Oral Health Care Is Important
Do your kids really understand why brushing and flossing are important? If not, they may be less inclined to stick with good habits as they grow up, which means they can become more vulnerable to plaque and tartar buildup. When helping them develop an oral hygiene routine, take time to talk to them about how cavities and other problems might affect them. During their routine visits, kids can enjoy information about oral health care in addition to preventive treatment from their dentist.
Your Charles City, IA Dentist Helps Parents And Kids Prevent Tooth Decay
At our Charles City, IA dentist's office, we are prepared to help patients of all ages protect their teeth from harm. If you have questions about your child's oral health, or want to set up your own checkup, please call Central Park Dentistry at (641) 228-1115.
Call Central Park Dentistry in Charles City, IA Today!
At Central Park Dentistry, we offer a variety of dental treatments that are customized for each member of your family, including in-house root canal treatment, tooth extractions, dental implant placement, and same-day emergency dental visits, when necessary. To schedule a consultation or dental appointment with Dr. Hansen, call our dental office in Charles City, IA today at (641) 228-1115. We also proudly welcome patients from Osage, New Hampton, Greene, Nashua, Nora Springs, Riceville, and all surrounding communities.