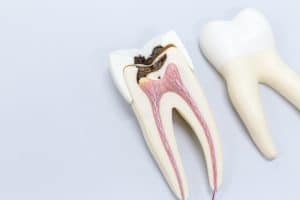 As dental professionals, we want to work with our patients to help them enjoy a full and healthy smile, addressing common problems that could lead to tooth loss. However, sometimes problems or emergency situations arise that require an extraction, in which your Charles City, IA, dentist removes a tooth. How do we perform an extraction, and when do we suggest removing them?
When We Remove Teeth
We often remove wisdom teeth, which are four additional molars that may erupt in a person's late teens or early 20s. By taking these teeth out before they arrive, we prevent painful impaction (partial eruption), infection, misalignment, and serious discomfort. We may also remove a tooth that is severely damaged or infected, which could allow infection to reach surrounding teeth. Extraction also occurs when teeth become loose due to gum disease, or to make room to reposition the remaining teeth and correct misalignment.
Preparing for the Procedure
We begin the process by administering a local anesthetic to numb the area around the tooth that we're extracting. Next, we administer a form of dental sedation known as nitrous oxide. The patients wear a mask over the nose and inhales the gas, which helps them enter a calm and relaxed state throughout the procedure. Once the treatment ends, the effects of the sedation wear off quickly, in fact, you may be able to drive yourself home.
For wisdom teeth, we open the area above the soon-to-erupt teeth and gently remove them, suturing the area closed afterward. For other situations, we gently rock and remove the teeth with forceps. We then suture the site and provide detailed instruction for the care of your smile afterward, including what foods to avoid and how to brush and floss carefully, and when to see us for follow-up visits to remove the sutures.
Replacing Your Missing Teeth
With wisdom teeth removal, there will be no gap in your smile. But if we need to remove a damaged or decayed tooth, then you may have a gap that could lead to complications, such as misalignment. In order to fill the gap in your smile, our team may recommend replacement options, such as a custom-made dental bridge or possibly a single tooth dental implant. If you have any questions about removing teeth or about your replacement options, then please contact our team today.
Do You Have Questions About Extraction?
Our team can offer a safe and comfortable procedure to remove a tooth and offer a lifelike replacement when necessary. To learn more about our restorative treatment options, schedule a visit by calling Central Park Dentistry in Charles City, IA, today at (641) 228-1115. We also proudly welcome patients from Osage, New Hampton, Greene, and all surrounding communities.
Call Central Park Dentistry in Charles City, IA Today!
At Central Park Dentistry, we offer a variety of dental treatments that are customized for each member of your family, including in-house root canal treatment, tooth extractions, dental implant placement, and same-day emergency dental visits, when necessary. To schedule a consultation or dental appointment with Dr. Hansen, call our dental office in Charles City, IA today at (641) 228-1115. We also proudly welcome patients from Osage, New Hampton, Greene, Nashua, Nora Springs, Riceville, and all surrounding communities.