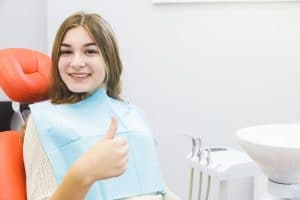 While it would be odd to encounter someone who was excited to have a cavity, the process of restoring an unhealthy tooth is not something you have to fear. Treatment can put a stop to problems that threaten your well-being and the health of your tooth, and the placement of a modern restoration can preserve your smile. Our Charles City, IA dentist's office is able to provide care in a friendly environment while committing to restoring your appearance as well as your tooth. You should be aware that if you put off treatment, you can allow the condition of your tooth to worsen, which can lead to more permanent damage. Delaying care also makes it more likely you will develop an infection in your tooth before the matter is addressed.
Putting Off Cavity Treatment Can Lead To Problems
Unfortunately, there is nothing you can do to halt a cavity's growth, which means the condition of your tooth can continue to worsen until an infection forms. Infections lead to pain and sensitivity, and they can also cause the area around your tooth to swell. When this happens, there is a risk that the bacteria that have gathered within your tooth will move through the roots and affect different parts of the body. In time, the damage can become so severe that there is no longer a way to save your tooth!
What Will A Dental Restoration Do To My Smile?
Modern dental fillings and dental crowns can protect teeth without changing the way that they look. Fillings made from composite material are able to blend with, and bond with, surrounding tooth enamel. If you require a dental crown, one that is made of porcelain or zirconia can effectively cover your tooth while matching the way that it looks. While smile-friendly restorations can be beneficial if you have a problem with a visible tooth, your dentist may recommend a sturdier metal material if you need to have a molar or premolar restored. These teeth are difficult to see, and they can be better protected with metal restorations.
Will I Have To Avoid Putting Pressure On A Tooth After Cavity Treatment?
The right dental filling or dental crown can provide enough support to keep your tooth safe over time, even as you continue to trust it to absorb bite pressure. With that said, excess friction or pressure can affect a restoration, just as it could affect healthy tooth enamel. If you continue to practice good oral hygiene and avoid excess wear and tear, your restoration can offer support for many years.
Your Charles City, IA Dentist's Office Can Address Your Cavity Troubles
Your Charles City, IA dentist's office is prepared to help patients who develop problems with dental decay. To find out more about our restorative services, please call Central Park Dentistry at (641) 228-1115.
Call Central Park Dentistry in Charles City, IA Today!
At Central Park Dentistry, we offer a variety of dental treatments that are customized for each member of your family, including in-house root canal treatment, tooth extractions, dental implant placement, and same-day emergency dental visits, when necessary. To schedule a consultation or dental appointment with Dr. Hansen, call our dental office in Charles City, IA today at (641) 228-1115. We also proudly welcome patients from Osage, New Hampton, Greene, Nashua, Nora Springs, Riceville, and all surrounding communities.